Profit Attributable to Shareholders Up over 35%, Actively Seek for Investment on Good Projects
Release Date:2019-09-02 14:56:34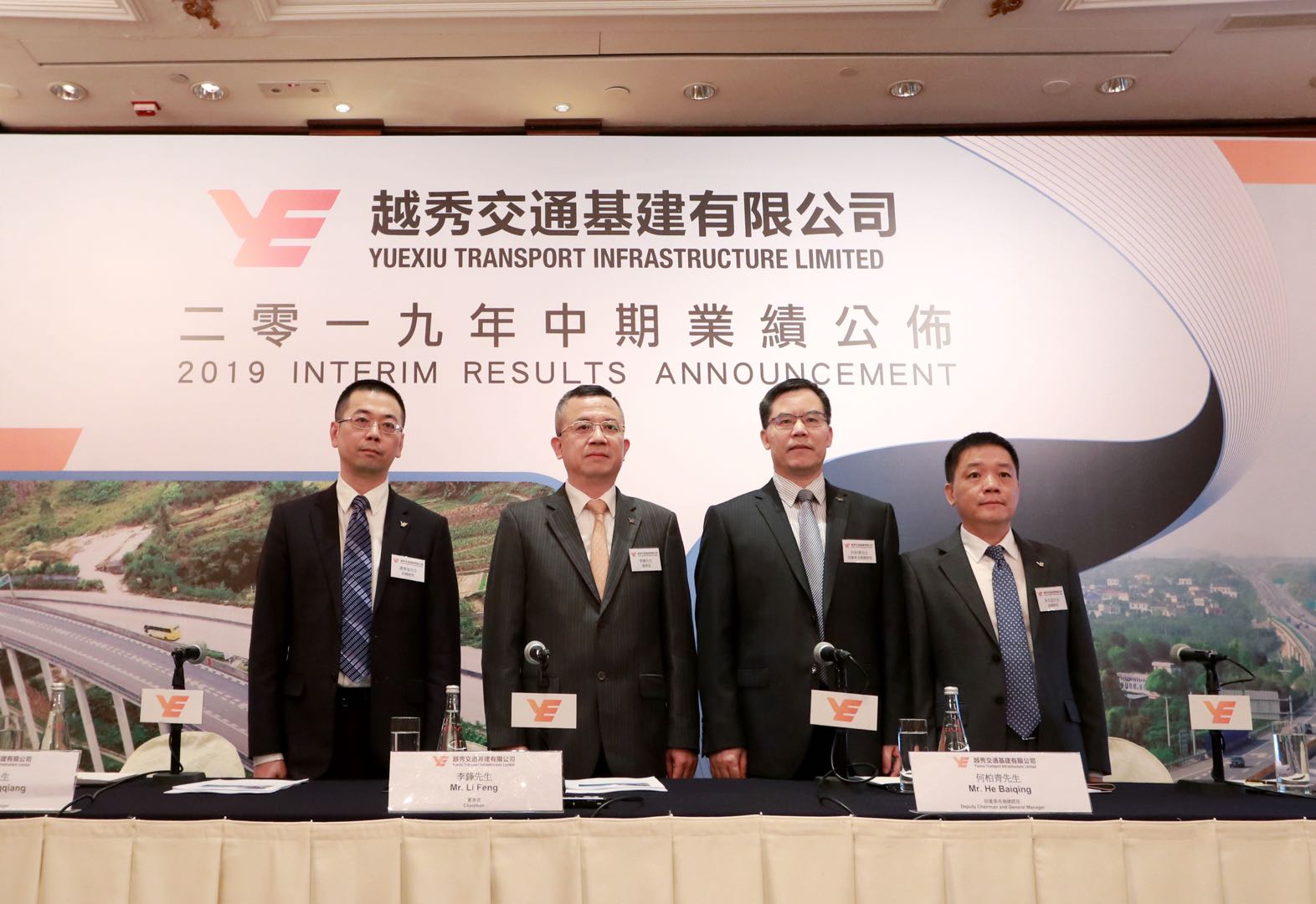 On August 28, 2019, Yuexiu Transport Infrastructure Limited ("Yuexiu Transport" or "the Company") held a press conference of the company's results in Hong Kong and announced its mid-2019 results as well as distribution of dividends for mid-2019. For the six months ended 30 June 2019, the Company recorded revenue of RMB1.381 billion, representing a year-on-year increase of 0.7%. Profit attributable to shareholders amounted to RMB 635 million, realizing a year-on-year increase of 37.3% and placing basic earnings per share at RMB 0.3796. The Board offered a resolution of distributing a mid-term dividend of HKD0.24 per share for 2018. Together with the paid interim dividend of HKD0.18 per share, representing an increase of 20.0% year-on-year.
The president of Yuexiu Transport, Li Feng stated in the conference that the Company's operating results hit good record again. Facing the currently complicated global economy, the Company could constantly optimize its asset portfolio by relying on its owned high quality projects and achieve great results, which fully shows its strong capability of risk resistance and reflects the Company's right and prospective core strategy of insisting on developing the expressway-related industry bigger and stronger. Yuexiu Transport runs one of the three core industries of Yuexiu Group, making it the "stabilizer"of Yuexiu Group. As a result, Yuexiu Group will continue supporting the development of Yuexiu Transport. The Company is going to take proactive part in project concerning plan for development of the Greater Bay Area and to keep exploring the opportunities of making investment on the projects in the provinces in Central China in order to optimize the distribution of its asset and the income structure and to improve its asset size and profitability.
In the end, President Li Feng concluded his speech by stating that Yuexiu Transport has to consider about how to become an asset management company making expressway its major underlying asset, which means to apply the idea of asset management to its business operation and management and to select good quality and appropriate underlying asset on the premise of sticking to the core correct route of developing its main business of toll expressway to a larger and stronger scale. At the mean time, in view of the features of the operating period of toll expressway, the Company must continuously seek for valuable investment opportunities and keep input of new assets with a longer period of operation so that the Company's underlying business is guaranteed and the pace of allocating and venturing asset resources and the balance between income and risk and between short-term profits and long-term ones are under good control. In addition, the Company has made a great effort in direct financing, indirect financing and use of different financing tools at home and abroad and gained good achievements thereon. Therefore, it should carry on enhancing its core competitiveness of optimizing debt structure to reach better allocation of the Company's liabilities and assets. And the Company should upgrade the overall operating and management capabilities, work hard on precision marketing and cost reduction, and improve business proficiency to create better profits for the shareholders.