Good news! Yuexiu Transportation North Second Ring Company won the title of "High-tech Enterprise"!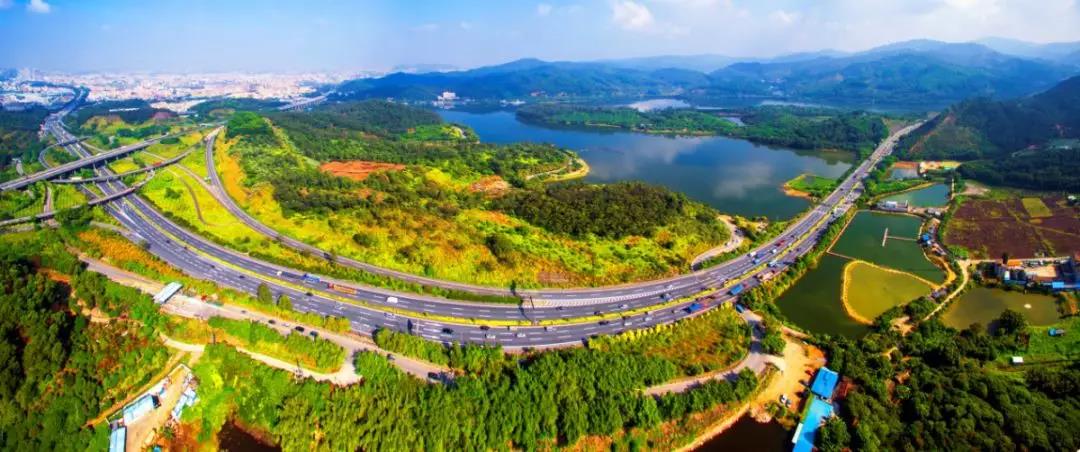 Everyone must also want to know the specifics of this qualification. Yuexiu Jun will reveal for everyone. The secret of success of North Second Ring Company.
Qualification overview
With excellent technical innovations and excellent application transformation capabilities, Guangzhou North Second Ring Transportation Technology Co., Ltd. has successfully obtained the official affirmation of its high-tech enterprise application from the Ministry of Science and Technology and was awarded the "High-tech Enterprise Certificate" to become one of the few high-tech enterprises in transportation industry and the state-owned enterprises.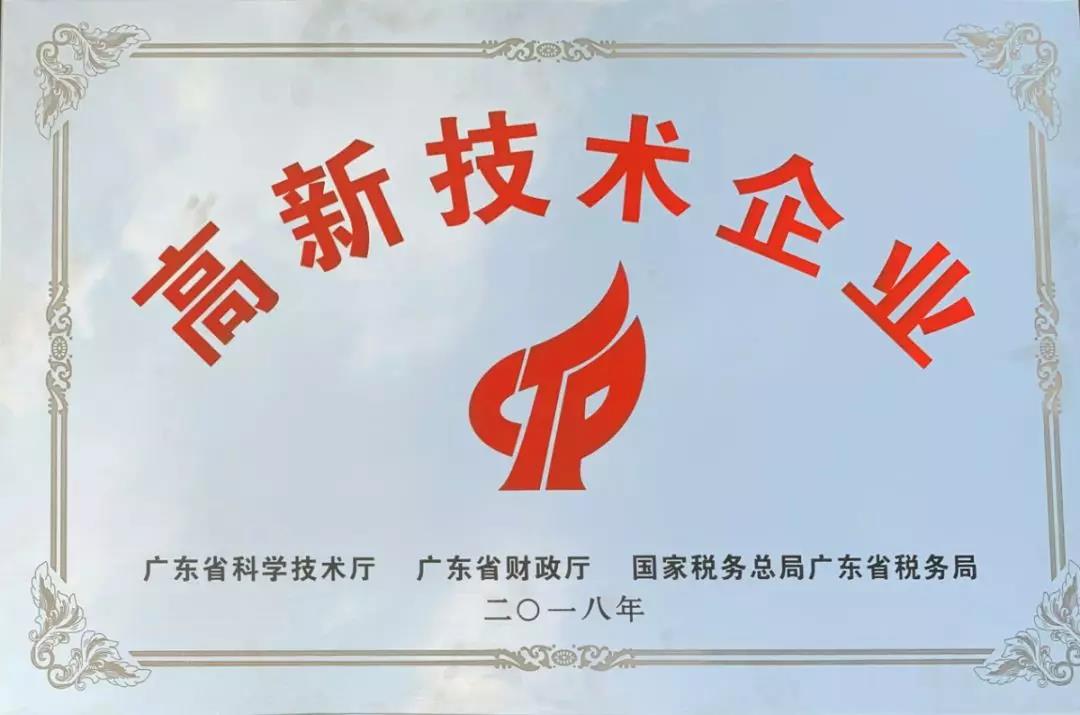 High-tech enterprise plaque
The successful identification of high-tech enterprise is the result of the company's deep practice of the new development concept. It has laid a technical foundation for promoting the high-quality development of the company's production and operation and gradually realizing the modernization of traffic management capabilities, and has opened up new ideas for the upgrading of Yuexiu's transportation strategy.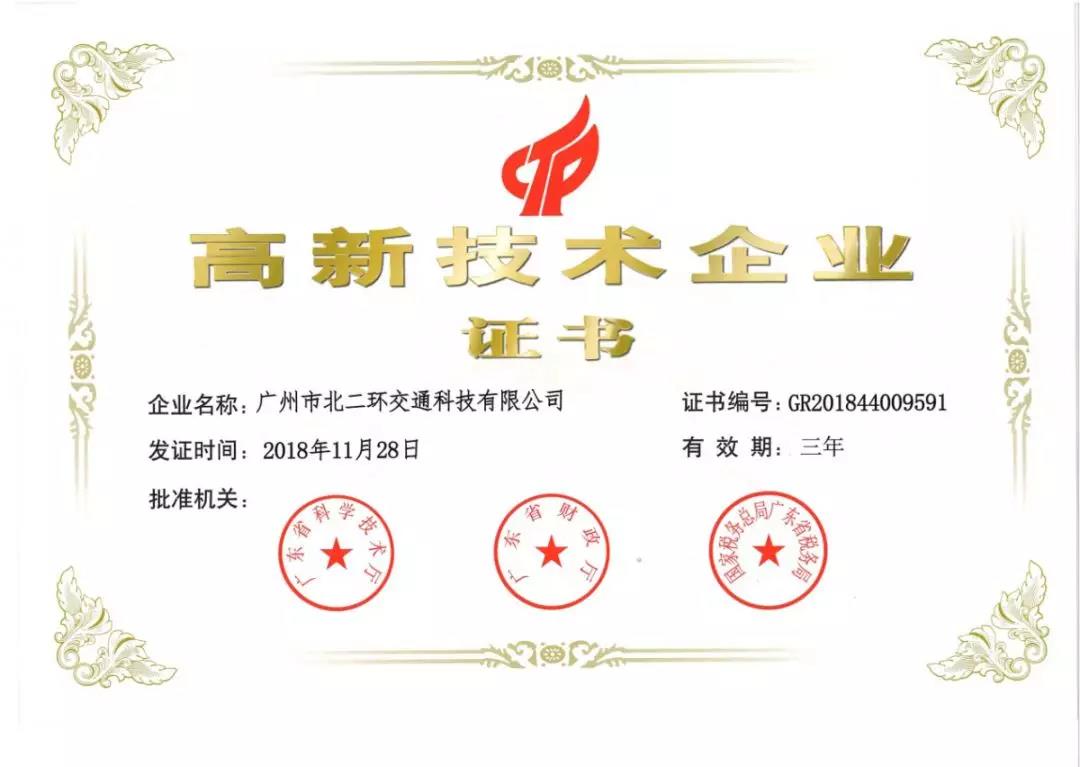 High-tech Enterprise Certificate
As one of the few high-tech enterprises in transportation industry and the sate-owned enterprises, how did North Second Ring Company make it?
When opportunity comes, catch it!
High-tech enterprise qualification recognition helps companies to achieve high-quality development, and reduce taxes and costs. With such great benefits, since 2018, under the guidance of Yuexiu Group and Yuexiu Transportation, North Second Ring Company has taken an active role in catching the opportunity, initiated the application as a high-tech enterprise, and actively communicated with shareholders, industry and commerce department, tax department, science and technology and other departments in charge to obtain strong support.
After more than half a year, the North Second Ring Company finally passed the high-tech enterprise certificate authentication after strict preliminary examination, audit, review and publicity from the district, city and provincial authorities to the Ministry of Science and Technology.
Insist on innovation, worth it!
The success of high-tech enterprise certification is inseparable from the rich and excellent technological innovation achievements of North Second Ring Company and the application of high-efficiency scientific research results. For many years, North Second Ring Company has adhered to the needs of business development, adhered to scientific research and innovation, and continued to exert its strength in the aspects of highway maintenance engineering, electromechanical operation and maintenance technology, personnel training, and system management. It has been steadily developed and accumulated experience, till 2018, it has obtained 25 software copyrights, 30 utility model invention patent certificates and 3 transferable invention patents, and has made important contributions to the maintenance of highways and the improvement of safety and smooth performance of highways. In addition, the company strengthens cooperation with famous universities on industrial research to promote standardization, institutionalization and normalization of scientific research innovation management.
A new journey, started!
Joining the rank of national high-tech enterprises is a useful exploration for Yuexiu Group and Yuexiu Transportation to continue to promote innovation, achieve quality growth, and develop patterns. It is a milestone in the development history of North Second Ring Company. With a new honor, standing at a new starting point, North Second Ring Company will not forget why we started, keep in mind the mission, keep up with the development trend of high-tech industry, further enhance the profit contribution rate of science and technology, and embark on a new high-quality, sustainable development journey.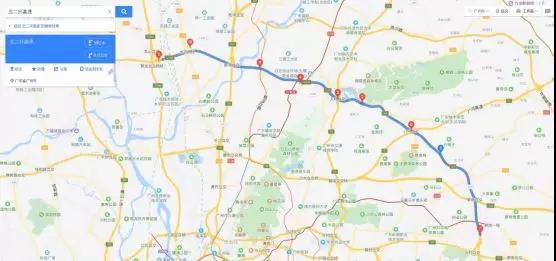 North Second Ring Road full line network diagram
On the one hand, improve social service, serve the people's livelihood, strengthen the capacity of technology innovation project incubation, strengthen scientific and technological achievement transformation, promote the popularization of new technologies such as road maintenance and electromechanical operation and maintenance, and use technology innovation and management innovation to create safer roads and make driving smoother,serve better highways and continue to meet people's longing for good travel needs.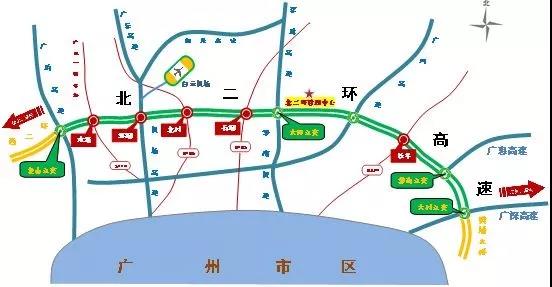 North Second Ring Road full line network diagram
On the other hand, we will promote the quality and efficiency of production and operation, speed up the construction and operation of Longshan Transportation Science and Technology Research & Development Center, increase investment in scientific research, focus on introducing talents, and strive to build the Research & Development center into the main position of Yuexiu's traffic technology innovation and research and development, the cradle of "artisans", to serve the development needs of the diversified transportation industry and strongly support Yuexiu's "Road +" development strategy.
Seize opportunities and persist in innovation
Service first, quality and efficiency pay equal importance
Remain true to our original aspiration and keep our mission firmly in mind
This is the secret of the success of the North Second Ring Company!
Honors and awards are affirmation and driving forces, and a new starting point
Constantly surpassing, beyond excellence!