High votes passed! Yuexiu Property helps Guangzhou "Taobao First Village" Lirendong in transformation and upgrading
Just now, cooperation enterprise for "Guangzhou Taobao First Village" Lirendong Village old community reform project was released.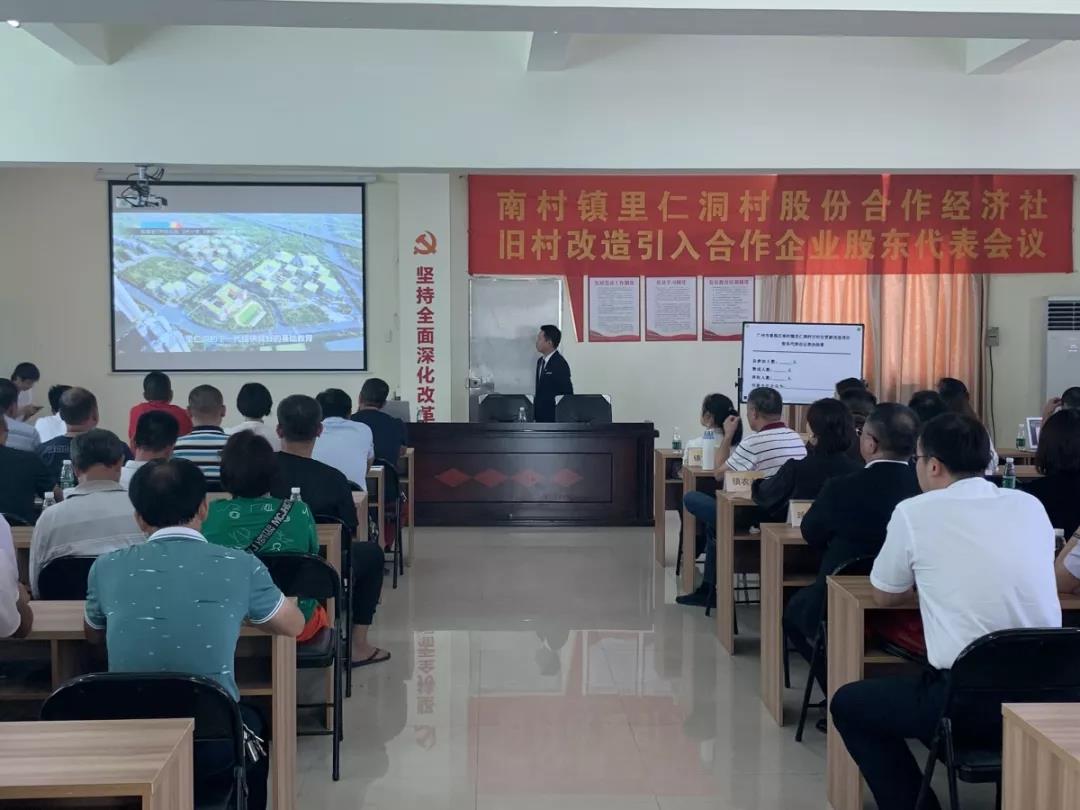 At 2:30 pm today, the representative meeting of the members of project bidding team of Lirendong Village old village renovation project was held in the conference room of the village. According to the voting results of the shareholders' meeting, Yuexiu Property obtained the qualification of the Lirendong project!
Guangzhou Public Resources Trading Center released the result of the tender in time after the meeting.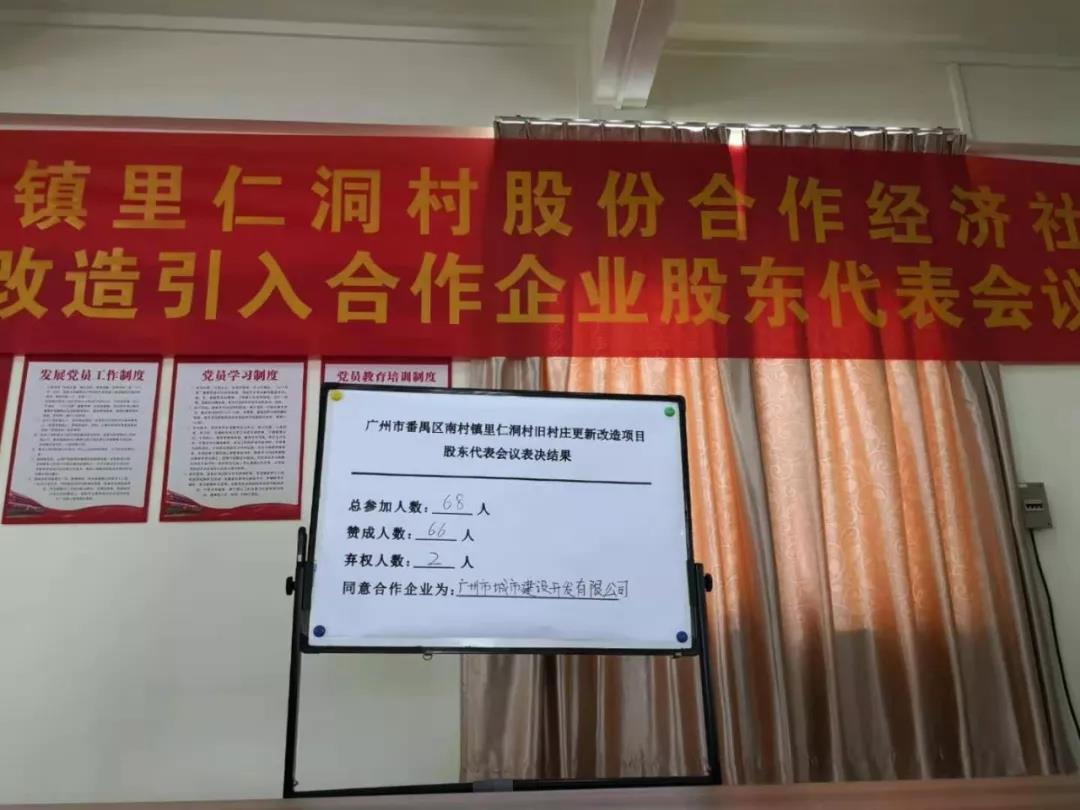 Yuexiue Property will add 1.5 million square meters of land to its reserve
Nancun Lirendong Village is known as "Guangzhou Taobao First Village".
According to the latest data released by the village, there are 6,234 people under registered households in Lirendong Village, a total of 2,375 households, and the resident population is as high as 44,142. There are more than 600 online stores in the village, and the number of practitioner exceeds 30,000. Lirendong Village is in the middle of Panyu District, west of Nancun Town, east to Huanan Country Garden, south to Shiqiao, west to Xinguang Express, and north to Jinxiu Xiangjiang Garden. There are many highways around the village, and the traffic advantage is remarkable: about 7.5 kilometers from Panyu District Government and Guangzhou South Railway Station, and about 30 minutes from Zhujiang New Town by car. It is about 1.5 km from Hanxi Changlong Station of Metro Line 3 and Nancun Wanbo Station of Line 7.
According to the tender announcement, the old converted area of the village is about 172 hectares, and the existing building area is about 2.21 million square meters. After the renovation, the total construction area will reach approximately 3.49 million square meters, which is expected to bring about 1.5 million square meters of land storage to Yuexiu Property. After taking the revitalization project of Lirendong Village, Yuexiu Property will also optimize its business structure and be a good model in demonstrating Guangzhou State-owned assets entering into the old village transformation market.
In the future, Yuexiu Real Estate will learn from the successful experience of the Lirendong Village project, continue to expand the resources of other old villages, and continue to innovate in the transformation of old villages.
Add 11 more schools to help Lirendong Village to take off
With the renovation by Yuexiue Property, how could Longrendong Village be rejuvenated in the future?
It is understood that according to the plan of Yuexiu Property, the renovated Lirendong Village will have 11 more schools compared with its current school count, which provides a good basic education for the next generation of Lirendong and helps the development of Lirendong.
At the same time, a total of 192,500 square meters of public services and municipal utilities will be relocated to Lirendong Village, including 108,800 square meters of independent facilities. There are only 14 municipal facilities in the village now. After the renovation, a total of 175 municipal public service facilities will be built, an increase of 161 more than the existing ones. After the renovation, the road planning, bus stops, parking lots, municipal pipe network and other livelihood facilities of Lirendong Village will be fully optimized. The planned road area is nearly 600 mu, and it is planned to rectify the river area of 10.5 mu, giving the villagers a green environment of green mountains and clean waters.
In combination with the industrial upgrading requirements of Lirendong, the commercial area of the renovated Lirendong will reach 500,000 m2, and it is planned to build at least two large commercial complexes, as well as high-quality hotels, fashionable youth apartments, children's education and training, community neighborhood centers, and other modern business package.
It is learned that the renovation of Lirendong Village will combine the existing industrial base and development trend of Yuexiu Property to build a smart technology + information business two-wheel drive. It is planned to introduce modern high-end service industry headquarters enterprises, intelligent science and technology creative quality enterprises and information business boutique enterprises. The introduction of excellent corporate resources has brought strong development momentum to the new community of Lirendong.
Yuexiu Property upgrades another old village
Yuexiu Property has deepened the urban renewal and renovation of Guangzhou for 36 years, and the total renovation land area is over 8 million m2. In the past 36 years, in almost every era, there have been old community renovation masterpieces from Yuexiu Property. In the 1980s, Yuexiu Property did renovations for the Tianhe Construction Zone, covering a total area of 5.2 square kilometers. In two years, it completed the roads and supporting facilities around the sports center, and successively developed the Mayor Building, Metropolitan Plaza, Urban Construction Building, Fortune Plaza, Victoria Plaza and other high-end commercial properties and residential properties such as Liuyun Community.
In the 1990s, Yuexiu Property renovated Ersha Island, with a total renovation area of 1.26 million m2, and introduced a leading international planning concept, which made Ersha Island from a dilapidated small fishing village to a model of the country's high-end international community.
In the 2000s, Yuexiu Real Estate was involved in the renovation of Nanpu Village in Chancheng District of Foshan (now Lingnan Yuting), with a total construction area of 241,200 m2, covering residential, apartment, commercial complex, street dealers, and rebuilt houses,reconstructed office buildings, reconstructed business and many other industrial forms.
In the 2010s, Yuexiu Property landed in the renewal of Guangzhou Paper Factory, which was renovated and upgraded to Xinghui Haizhuwan, with a 250,000 m2 residential, 310,000 m2 commercial international riverside complex, and 246 public building package.
After accumulating many mature transformation experiences, Yuexiu Property established the Urban Renewal Group in 2017, and since then it has gone deeper into rail transit properties, state-owned enterprise cooperation, and old factory renovation. The Lirendong project is a successful attempt in upgrading the old village sector in Yuexiu Property. In the future, Yuexiu Property will continue to expand the resources of other old villages with reference to the successful experience of the Lirendong Village project and continue to innovate and get breakthrough in the field of old village renovation.