Fengxing Group transfers Guizhou agricultural products and open up the channel to Guangdong market for the poverty alleviation product base
In order to help Guizhou Province to win the fight against poverty on time, with the strong support of the governments of Guangdong and Guizhou, Fengxing Group exerted its industrial advantages, actively promoted poverty alleviation and industrial poverty alleviation, actively connected Guizhou's production base and Guangdong market to accelerate the promotion of Guizhou pigs and high-quality vegetables to enter Guangdong market.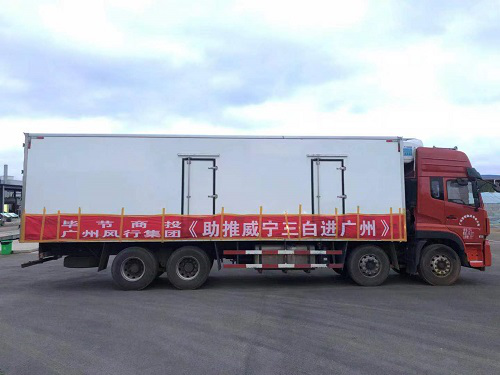 First, take overall responsibility for the consumption of agricultural products into the government canteens. In the early stage, Fengxing fully docked and coordinated, and in strict accordance with the standards for agricultural and non-staple food for Hong Kong and Macau, selected local agricultural and sideline products' suppliers in the poverty alleviation area, and built a convenient, efficient and stable sales channel in a short period of time. Since September this year, Guizhou poverty alleviation products have officially entered the canteen of the Guangzhou government enterprise. At present, 38 canteens such as institutions, enterprises and schools have been opened.
Second, actively dock Guizhou's high-quality agricultural products and Guangdong market. Taking the newly established fresh food company as a platform to give full play to the advantages of the company's products and channels, and further expand the procurement scope and categories of agricultural and sideline products. Directly transfer food from Guizhou to Guangdong market. After the delivery to government and enterprises' canteens, other vegetables are sold to Guangzhou vegetable wholesalers. On October 16, the first batch of Guizhou Weining vegetables were directly transferred from Guizhou to Guangdong market. The effective connection between the production area and the market reduced the cost of vegetables and further enhanced the market competitiveness of poverty alleviation products.
Third, actively promote 2 million pigs industry project and build a long-term mechanism for industrial poverty alleviation. Make full use of its own advantages, plan to set up Guizhou Fengxing Farming and Animal Husbandry Company, and build a whole industry chain supply platform with annual output of 2 million pigs, annual processing of 1 million pigs, and supporting an annual output of 1 million tons of feed in Bijie City and Qiannan Prefecture. At the same time, in order to alleviate the current shortage of supply of pigs in Guangzhou, we reach a cooperation intention with local large-scale pig farms in Guizhou, 240 pigs will be transported from Guizhou to Guangzhou market on October 17 and 18. From then on, based on market demand we will continue to transfer live pigs from Guizhou and strive to contribute to stable supply of pigs to Guangzhou. It will also provide Guizhou a stable market channel for agricultural and sideline products, lay the foundation for the development of the follow-up pig project, and achieve the dual goals of increasing farmers' income and ensuring urban supply.