Fengxing Group takes a substantial step in promoting Guizhou poverty alleviation products to enter the municipal government canteen
Fengxing Group takes a substantial step in promoting Guizhou's poverty alleviation products to enter the municipal government's canteen for consumption and poverty alleviation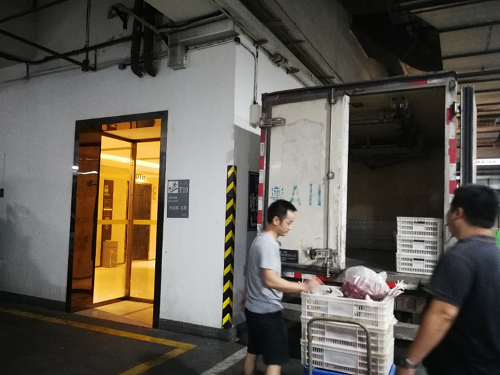 Products from Bijie, Guizhou entered Canteen
On September 9, Fengxing Group delivered the first batch of vegetables and meat from Bijie City, Guizhou, which is the counterpart Guangzhou is helping on poverty alleviation, to canteens of Guangzhou Municipal Party Committee, Municipal Government and Yuexiu Group. This marked the official entry of Guizhou poverty alleviation products into Guangzhou government enterprises canteens. Fengxing Group's consumer poverty alleviation work has taken a substantial step.
First, actively increase the matching and coordination of production and sales of agricultural and sideline products in the counterpart areas. According to the arrangement of the municipal party committee and the municipal government on poverty alleviation, local agricultural and sideline products suppliers in Bijie City, Guizhou Province were selected as poverty alleviation counterpart. The agricultural and sideline products procurement base were implemented to lay a solid foundation for helping the poor in the region to increase income and get rid of poverty.
Second, to fully connect and develop direct supply channels to government organizations in the early stage. Coordinating and responsible for the consumption of agricultural products delivered into government organization canteens, supply products directly to the municipal party committee, the municipal government, the municipal people's congress, the municipal CPPCC and other government units' canteens as the entry point, and actively explore the government offices, municipal state-owned enterprises, schools and hospitals and other canteens for direct supply service. In the short term, a convenient, efficient and stable sales channel to government units was initially constructed.
Third, ensure the supply quality system of agricultural and sideline products. Strictly in accordance with the standards for agricultural and non-staple food for Hong Kong and Macau, we strictly adhere to the inspection and quarantine standards for the products supplied, strictly monitor the production process, standardize standards and circulating regulations, ensure the quality of products, tracible source, and ensure the quality and safety of agricultural and sideline products.
Fourth, rationally integrate high-quality resources. Integrate Fengxing Group's own high-quality product resources such as dairy products, pork, chicken, eggs, and other high-quality product resources, give full play to the advantages of enterprise products and channels, further expand the scope and categories of agricultural and sideline products' procurement from Guangzhou's poverty alleviation counterparts, and gradually build an Internet + full-scale, three-dimensional market covering channel network system, providing stable channel support in helping agricultural and sideline products in the poverty alleviation region to enter the Guangdong, Hong Kong and Macau Greater Bay Area market.