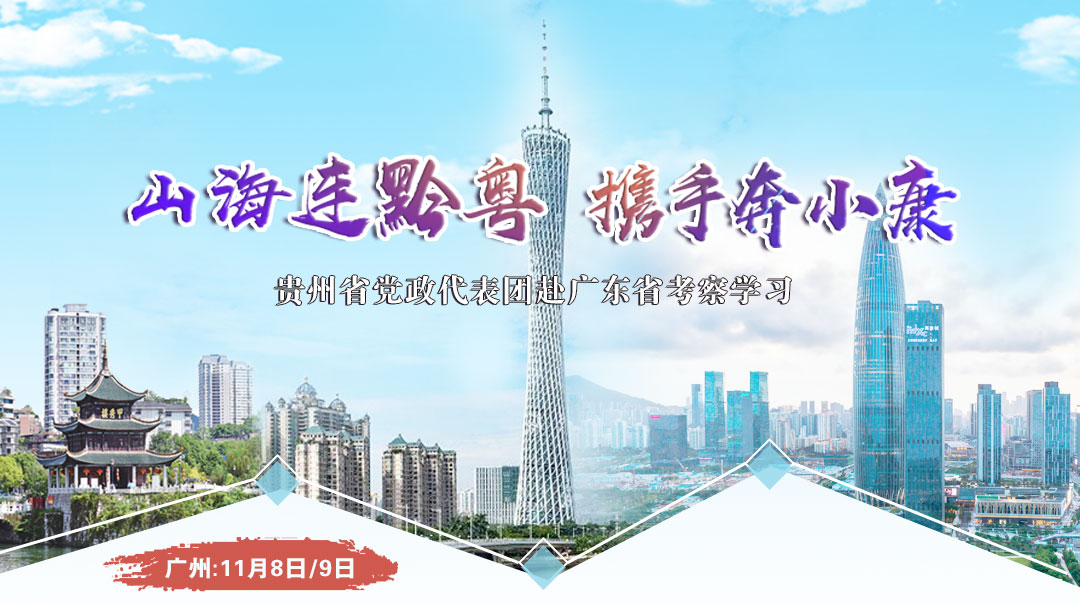 On November 8-9, the Party and Government Delegation from Guizhou Province carried out poverty alleviation cooperation and exchange visits in Guangzhou, Guangdong Province. On November 9, a meeting themed "Collaborative Industrial Cooperation between East (Guangdong) and West (Guizhou)" was held in Guangzhou. A total of 134 project contracts were signed in the meeting, with a total investment amount of 87.45 billion yuan, involving high-tech, intelligent manufacturing, new energy, cultural tourism, efficient agriculture and other industrial projects
Lu Yongzheng, Vice Provincial Governor of Guizhou province, as the host of the meeting, said, "we met again in beautiful Guangzhou and held a meeting themed "Collaborative Industry Cooperation between East and West" to build cooperation friendship and discuss cooperation by seamlessly connecting Guangdong's excellent enterprises, high quality technologies, abundant capital with Guizhou's beautiful environment, excellent resources, and preferential policy, with purpose of achieving win-win outcome. Guangdong to Guizhou is like the ladder to the mountain climber, or the sail to the ship, helping Guizhou catch up and strike forwards on the road of development. "
What is seamless connection? What is Guangdong speed? You could find the answers through these two figures.
98 Days!
How do the roxburgh roses that grow in the mountain without being known enter the market and become the best-selling "Ci-Ning-Ji"?
It only took 98 days for Wanglaoji Health Co., Ltd. to develop a series of products under the brand of"Ci-Ning-Ji. At present, the production, brand promotion, channel and other aspects of this series of products have been on the right track. Ci-Ning-Ji beverage is produced online by Chaoying Group at Huishui County, Qiannan Prefecture, with a daily capacity of 1.2 million cans. Last month, Wanglaoji Pharmaceutical Company Limited also signed a development and investment agreement concerning roxburgh rose products with Government of Qixingguan District, Bijie City.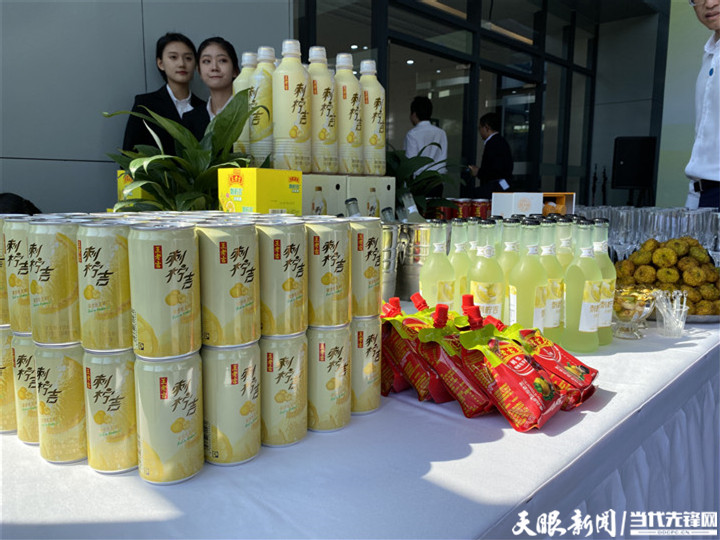 Guizhou Party and Government Delegation saw the slogan in the Shennong Cottage of Guangzhou Pharmaceutical Group Co., LTD. , "never forget the original intention, keep in mind the mission, help Guizhou fight against poverty, and build roxburgh rose into a fashion ecological industry of 10 billion yuan!" This is where the Ci-Ning-Ji products are developed. The investment in and production of Ci-Ning-Ji products also promoted the establishment of a 10 billion roxburgh rose industry in poverty-stricken areas in Guizhou, which is known as a good example of poverty alleviation.
78 Days!
Guangdong Yuexiu Group owns five listed companies of Yuexiu Financial Holdings, Chong Hing Bank, Yuexiu Property, Yuexiu Transport Infrastructure, and Yuexiu Real Estate Investment Trust. How does this big group connect with Guizhou Province?
Guangzhou Flagship Group, a subsidiary of Yuexiu Group, has reached cooperation intention with Bijie Jinsha County, Qixingguan District, and Dafang County, and planed to build slaughterhouses and feed mills. Yuexiu Property, a subsidiary of Yuexiu Group, has selected two plots under the jurisdiction of Baili Cuckoo and is preparing the project investment plan. On November 4, walnut milk and pork products in Guizhou were put into production and put on sale. Flagship's walnut milk with raw material from Bijie is produced in Guangzhou. Huangshangshang sausages and preserved meat are produced under the supervision of Guangzhou Flagship Group. It only took 78 days for Guizhou to realize the breakthrough of deep processing of agricultural products and entering the Greater Bay Area market.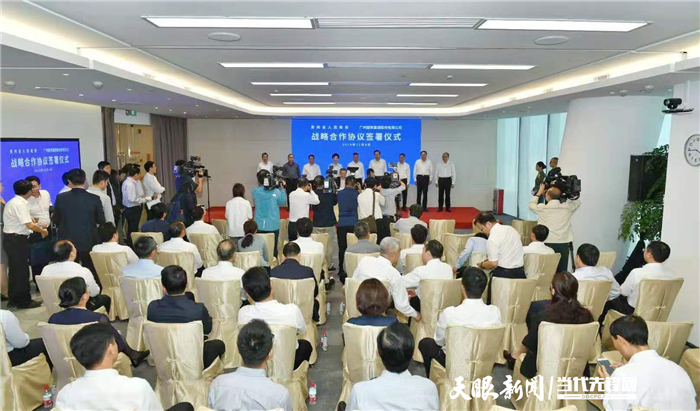 Cooperation Agreement Signing Ceremony between Guizhou Provincial Government and Guangzhou Yuexiu Group
In the end of the visit, a cooperation agreement signing ceremony between Guizhou Provincial Government and Guangzhou Yuexiu Group was held.
Guizhou Party and Government Delegation are pleasantly surprised by 98 and 78 these two figures, hailing it as Guangdong Speed, Guangdong Efficiency, and Guangdong Strength.
Ji Hong, Director of the Commerce Department of Guizhou Province, told reporters that the cooperation between Yuexiu Group and Guizhou is a concrete result of poverty alleviation cooperation between Guizhou and Guangdong. Urban agriculture is a new sector to Yuexiu group. The cooperation between the two sides can achieve win-win results, especially solving the employment problem of the poor people in Guizhou. Guangdong has a huge market space. We must unswervingly aim at Guangdong this big market and make good use of the east-west cooperation opportunities for poverty alleviation. Through analysis of the target market and demands, giving full play to the advantages of Guizhou, we will make accurate connection and undertake projects by making best use of the dams over 500 mu, continually expanding the scale of planting, and strengthening the standardization construction. By means of carefully implementing existing projects and continually creating more cooperation projects, we are making great efforts to turn Guizhou into the "farm" of Greater Bay Area of Guangdong, Hong Kong, and Macao and achieve win-win outcomes.
(Reporters: Xu Shaoting, Li Xuefei, Jia Zhi, Wen Shuang, and Deng Yuejie; Comprehensive Sorting: Shi Yuling; Senior Editor: Wang Luyao)
Link: jgz.app.todayguizhou.com//news/news-news_detail-news_id-11515115021212.html