Yuexiu Group donated materials to support epidemic control in Guangzhou and Hong Kong
Under the shadow of Novel Coronavirus Pneumonia spread, the global epidemic prevention resources are in crushingly shortage. To support the epidemic control efforts at home, the overseas enterprises of Yuexiu Group actively coordinated resources and purchased a batch of medical masks from overseas after overcoming difficulties. Only saving a few masks for emergent response to epidemic control within the Group, Yuexiu Group has donated most of the masks (totally 388,000 pieces, valuing over 2 mil yuan) purchased from overseas to competent authorities in Guangzhou and Hong Kong to support the epidemic prevention and control, working together with other parties to win the battle against the epidemic and effectively fulfilling the social responsibility of state-owned enterprises.
Yuexiu Group, via Hong Kong Liaison Office of the Central People's Government, has donated 150,000 masks to institutions and individuals in Hong Kong, effectively alleviating the pressure of shortage of epidemic protection supplies in Hong Kong.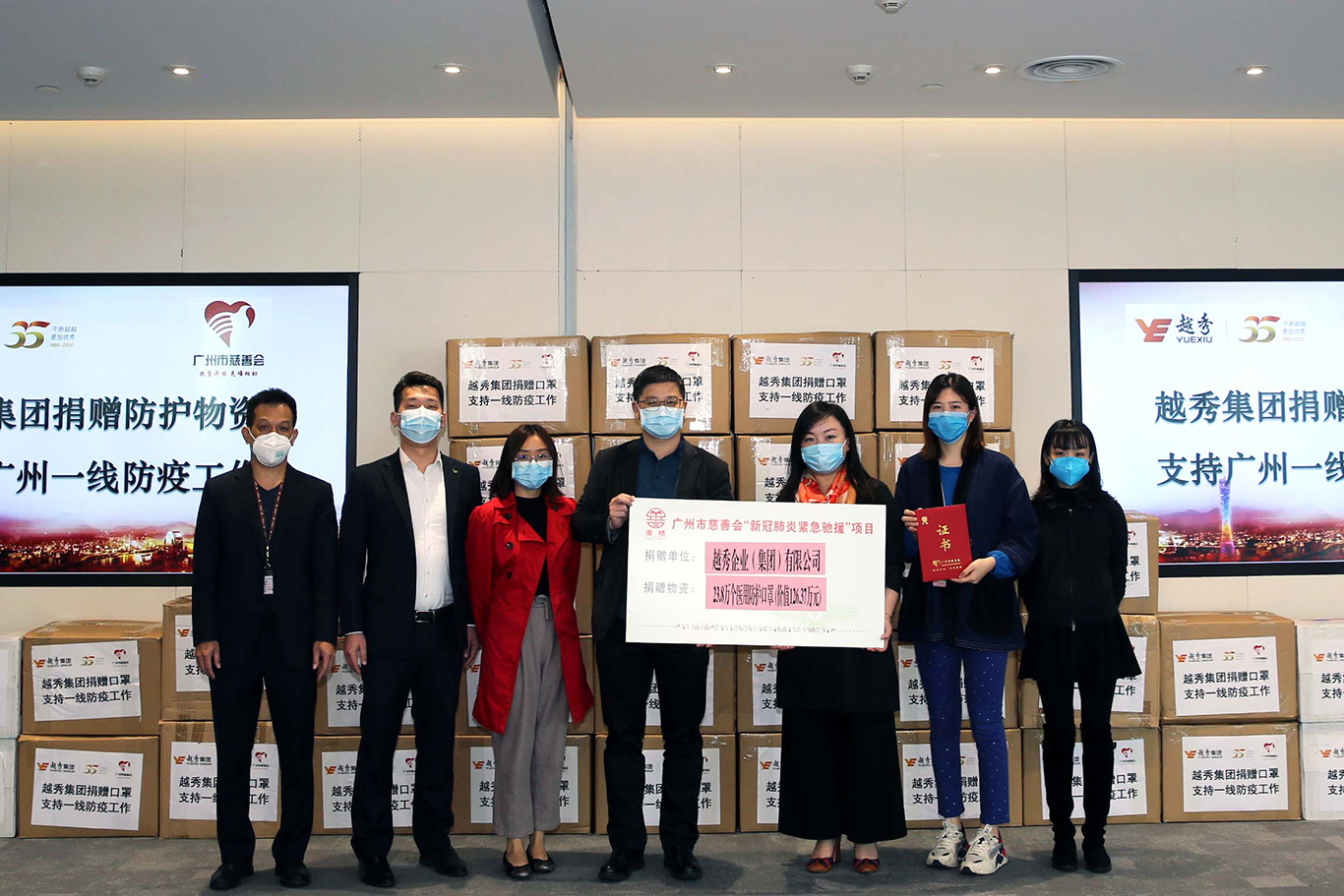 Yuexiu Group, via Guangzhou Charity Association, has donated 238,000 masks to support the frontline workers who are fighting against the epidemic, among which, 150,000 masks are donated to Guangzhou Health Commission which then distributed those masks to 16 hospitals and district health care institutions in Guangzhou, and 88,000 masks to the employees of Lingnan Group who have been working to ensure the prices of daily supplies stay stable and guarantee supplies to the hotels for medical observation.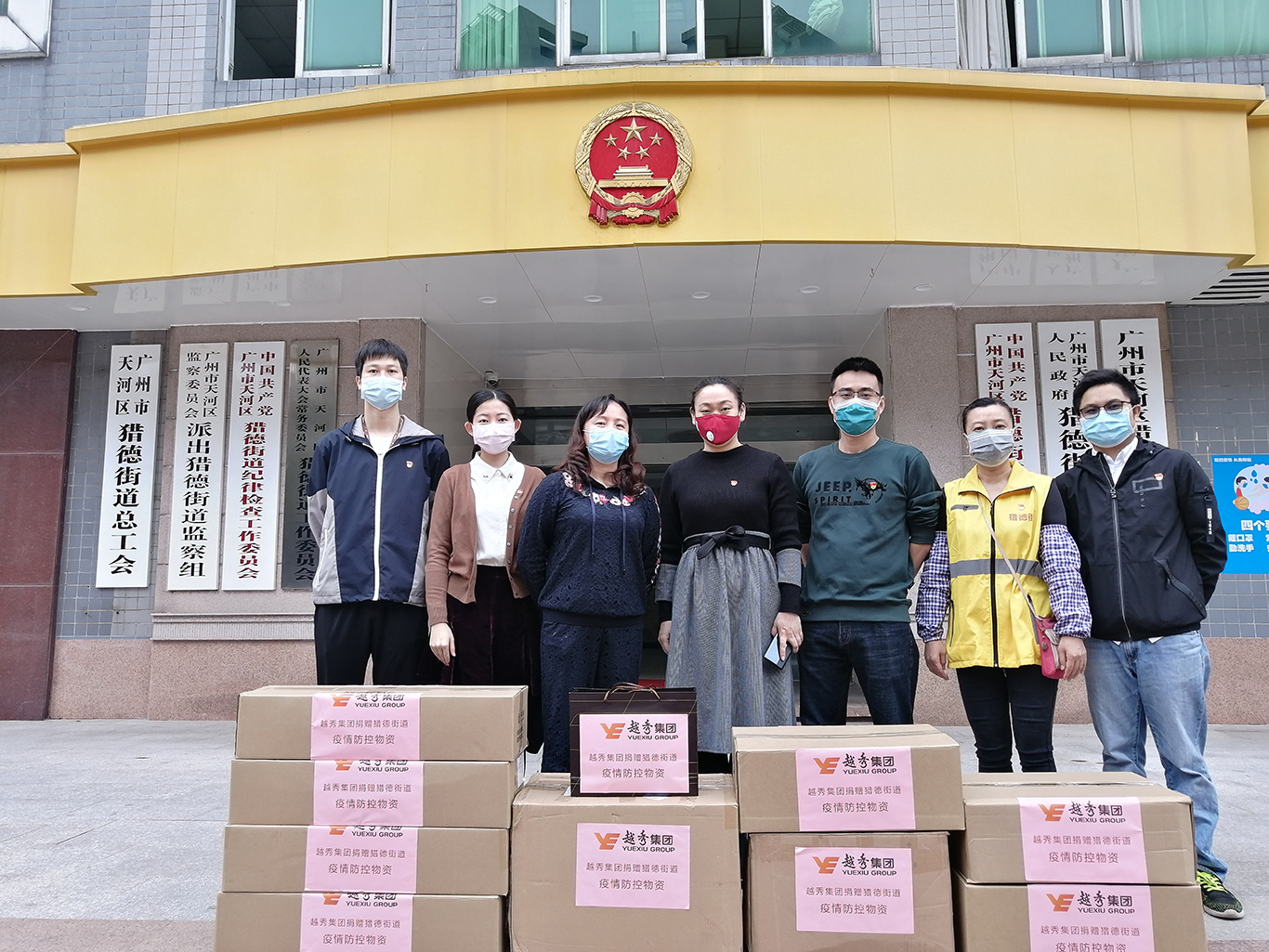 The Communist Party Committees of Guangzhou Government and Guangzhou State-owned Assets Supervision and Administration jointly carry out the "Five-One" Campaign to mobilize the communists working in the state-owned enterprise to support epidemic prevention and control among the communities in urban and rural area, as well as to support resumption of work and production of enterprises. Yuexiu Group, corresponding to such call, has donated a batch of epidemic prevention materials, including masks, the forehead temperature guns, hand sanitizers, alcohol, hygienic tissues etc to Liede Street in Tianhe District where it is located.
Yuexiu Group has resolutely implemented the work plans directed by Governments of Guangdong Province and Guangzhou City since the breakout of epidemic. It pays close attention to epidemic prevention and control. Meanwhile, it makes efforts to resumption of work and production of enterprises. Yuexiu Group not only fulfills its duties but also carries out its mission of a state-owned enterprise and its social responsibilities.
1. Donating more than 1.4 million yuan of materials to Hubei Province and other places;
2. Reducing over 170 million yuan of rent and more than 3,600 companies benefit from it;
3. Providing financial support to small, medium and micro companies, such as, loan renewal, lower interest rate, and financing;
4. Stabilizing food supplies by offering 74 tons of fresh milk, 60 tons of eggs, 100 tons of vegetables per day, and more than 10,000 pigs per month.