Yuexiu Group Won the "Poverty Alleviation Achievement Award" and the Title of Five-Star Unit in Guangzhou Charity Donation List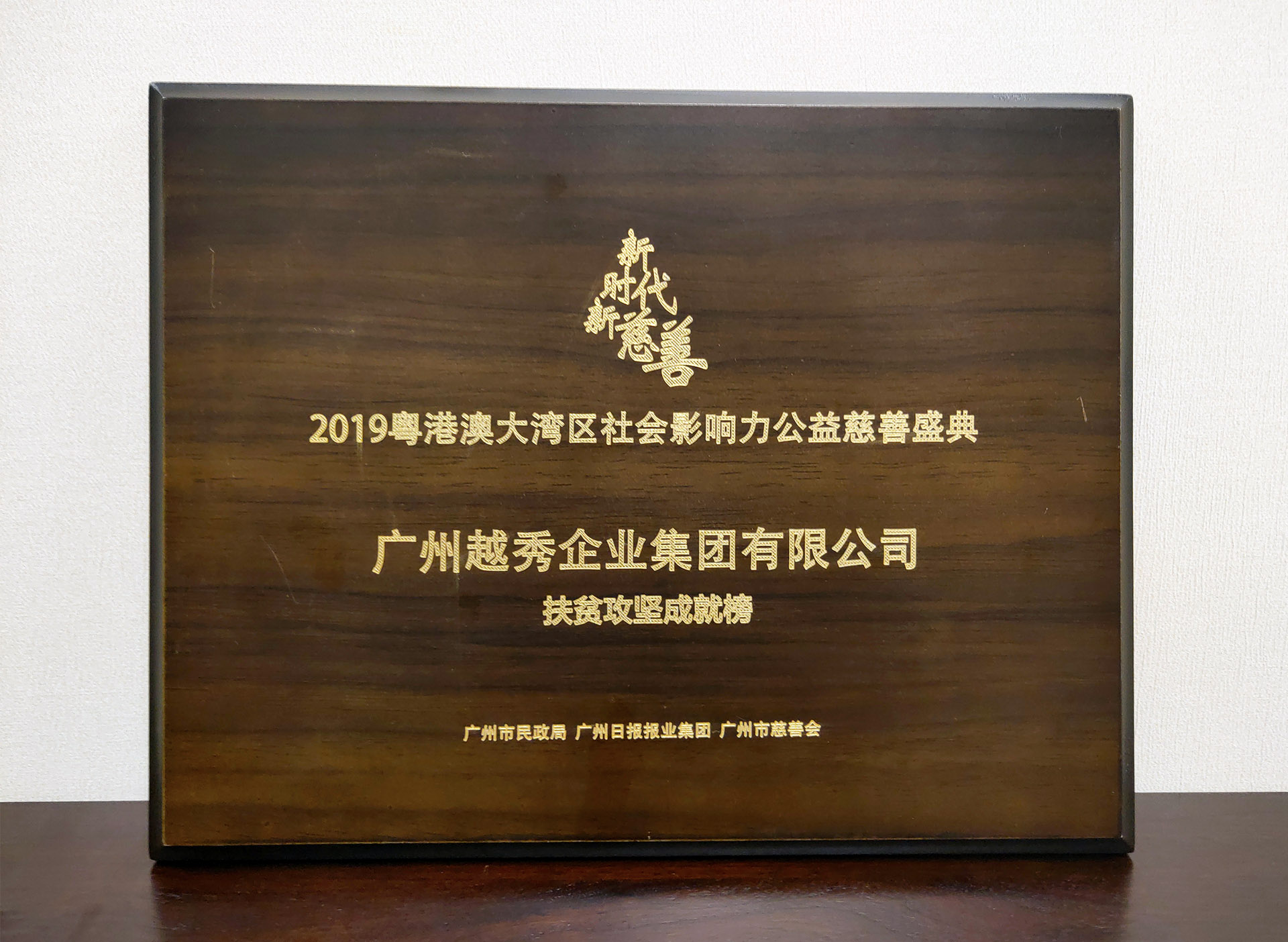 On December 26, the 2019 Guangdong-Hong Kong-Macao Greater Bay Area Social Influence and Guangzhou Charity Ceremony jointly sponsored by Guangzhou Civil Affairs Bureau, Guangzhou Daily Newspaper Group and Guangzhou Charity Association, was held. Representatives of government departments, enterprises, experts, scholars and caring people from all walks of life from various cities in Guangdong, Hong Kong and Macao Greater Bay Area gathered in Guangzhou Tower to witness the 2019 Guangdong-Hong Kong-Macao Greater Bay Area Social Influence List and the release of 2019 Guangzhou Charity List. Yuexiu Group, with many years of active contributions in poverty alleviation, won the Annual Social Impact List Poverty Alleviation Achievement Award and was named as a Five-Star Unit in the 2019 Guangzhou Charity Donation List.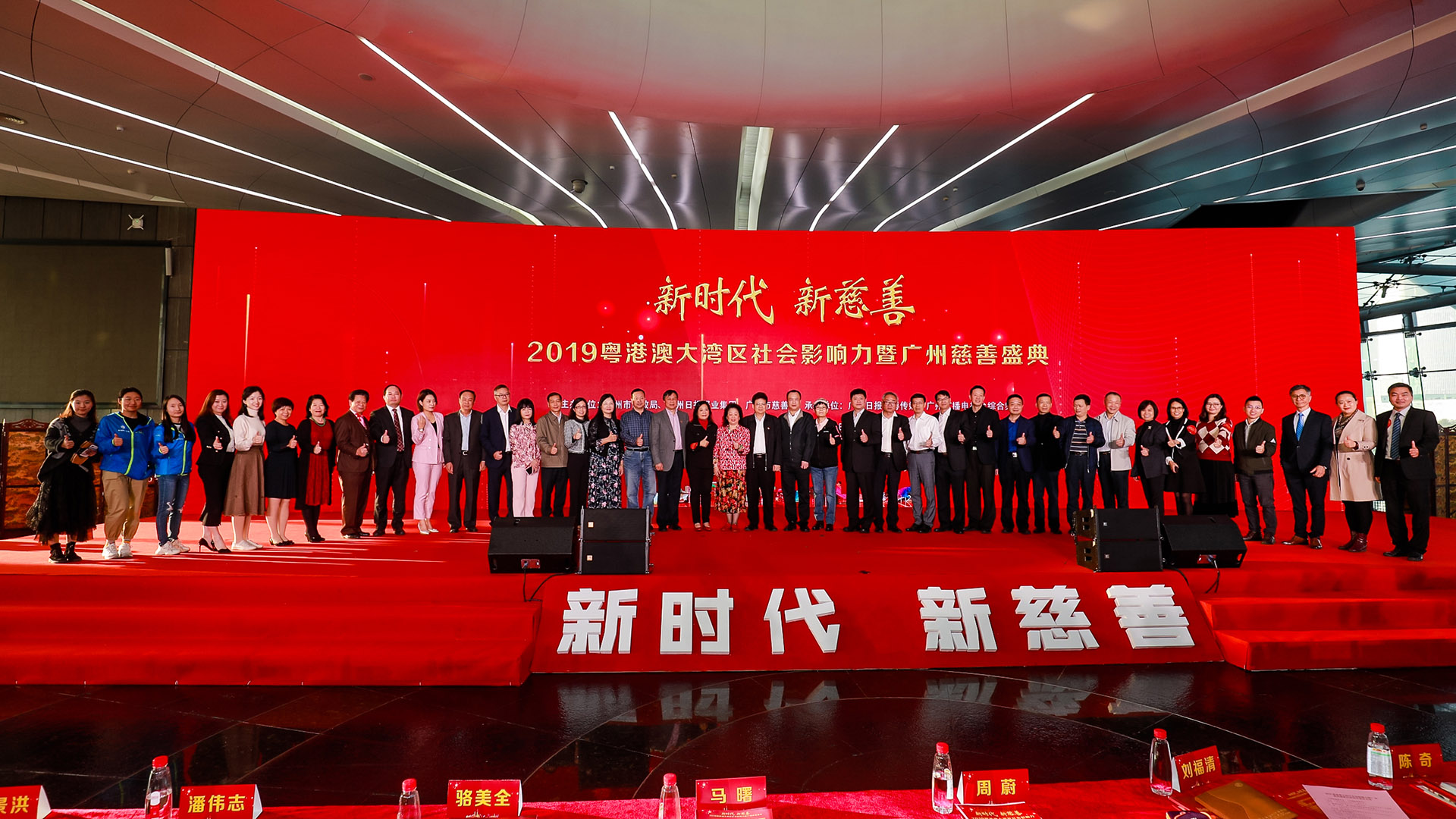 2019 Guangdong-Hong Kong-Macao Greater Bay Area Social Impact and Guangzhou Charity Ceremony
In recent years, Yuexiu Group has actively carried out poverty alleviation collaboration and counterpart support in the eastern and western regions, and constructed a large support structure of "industry assistance + financial assistance + technological assistance" to help poor areas win the poverty war. In terms of counterpart assistance to Guizhou, it is planned to invest RMB 2.5 billion to build a pig industrial chain supply platform project in Guizhou Province in about 3 years, which will promote the employment of more than 5,000 local people and help 7,200 farmers to become rich. The subordinate Flagship Group researched and developed Fengxing walnut milk with Guizhou hickory as its raw material. It took only 78 days to realize the deep processing of Guizhou Agricultural Products and the breakthrough of entering the Greater Bay Area market, which became the landmark achievement of poverty alleviation cooperation between the East and the West.
In terms of targeted poverty alleviation in the province, since May 2016, the Group has assisted three provincial level poverty-stricken villages in Chimi Village, Gaodao Village, and Xianshui Village in Yingniu Town, Qingyuan, Yingde. The Group adheres to the industrial poverty alleviation as an important entry point, actively explores a long-term mechanism to promote the continuous increase of income of poor households, promotes the poverty alleviation work from blood transfusion to hematopoietic poverty alleviation, and helps poverty alleviation to sustainable development. After more than 3 years of accurate assistance, as of November 2019, the per capita disposable income of the relatively poor people with working capacity in the three villages far exceeded the provincial standard, each reaching more than RMB 20,000. Each village has eight long-term and stable poverty alleviation and consolidated poverty alleviation security projects, and the guarantee is that the collective income of the village will increase by more than RMB 200,000 to achieve high-quality poverty alleviation for all the poor.