On the morning of February 6, "Yuexiu Group – Hundred Elders Charity Campaign for Caring the Widowed, Orphaned and Poverty-stricken Elders & Feeling the New Look of Guangzhou" was grandly held in the Family Integrated Service Center, Dong jiao Street, Liwan District, Guangzhou, providing Red Envelopes and life necessities to more than 100 widowed, orphaned and poverty-stricken elders and then offering spring festival scrolls for free to such elders on the site of the campaign; additionally, old leaders and famous calligraphers and painters started to paint on the site for charity, and thereafter, the widowed, orphaned and poverty-stricken elders were led to Canton Tower to feel the new atmosphere and new look of Guangzhou.
This charity campaign was sponsored by Guangzhou Pension Service Industry Society, and more than 400 people including the leaders of Bureau of Civil Affairs of Guangzhou Municipality and Bureau of Civil Affairs of Liwan District as well as retired veterans, widowed & orphaned elders and philanthropic people attended the campaign. Yuexiu Group, as the main supporter, donated RMB 50,000 for this charity campaign through Yuexiu Public Welfare Foundation to support the development of social public welfare for the aged people, and was highly praised by the leaders, guests and elders on the site.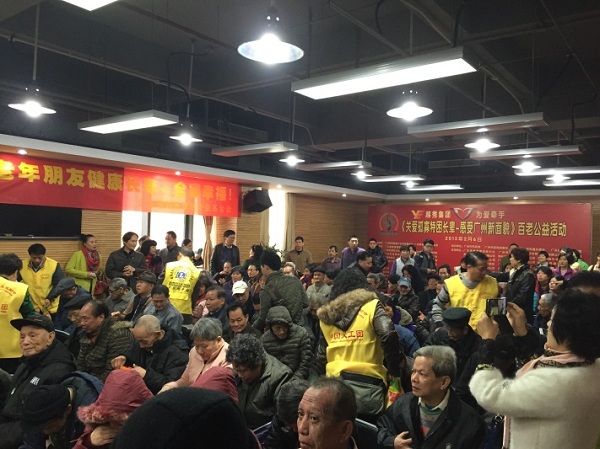 Guangzhou Yuexiu Group, since its establishment 30 years ago, has been adhering to the core value of "beyond excellence" and the enterprise mission of "repay shareholders, employees and society", and has been developed into a state-owned enterprise with the largest assets scale in Guangzhou and a local enterprise in Hong Kong with the largest assets scale in China. In September 2014, Yuexiu Group initiated the establishment of "Yuexiu Public Welfare Foundation" to promote the specialized social responsibility management, to integrate the social forces and resources, to practice the public welfare, and to create a public welfare brand. Since establishment, Yuexiu Public Welfare Foundation has executed many projects in poverty alleviation, disaster relief and community building, with the amount of patronage of more than RMB 10 million.