Yuexiu Group was awarded "Top 500 Guangdong Enterprises 2019" "Top 100 in Guangdong Service Industry 2019"
On August 29, Top 500 Guangdong Enterprises 2019 Conference organized by Guangdong Provincial Enterprise Confederation and Guangdong Provincial Association of Entrepreneurs was held at Guangzhou Baiyun International Convention Center. The theme of the conference was "Greater Bay Area, Big Enterprises, Big Responsibility". The conference announced the top 500 list of Guangdong enterprises in 2019 and the top 100 list of private enterprises, manufacturing, service, circulation and innovative enterprises in Guangdong. Yuexiu Group ranks 51st in the top 500 enterprises in Guangdong in 2019 and 23rd in the top 100 service enterprises in Guangdong. It reflects the high recognition of the group development.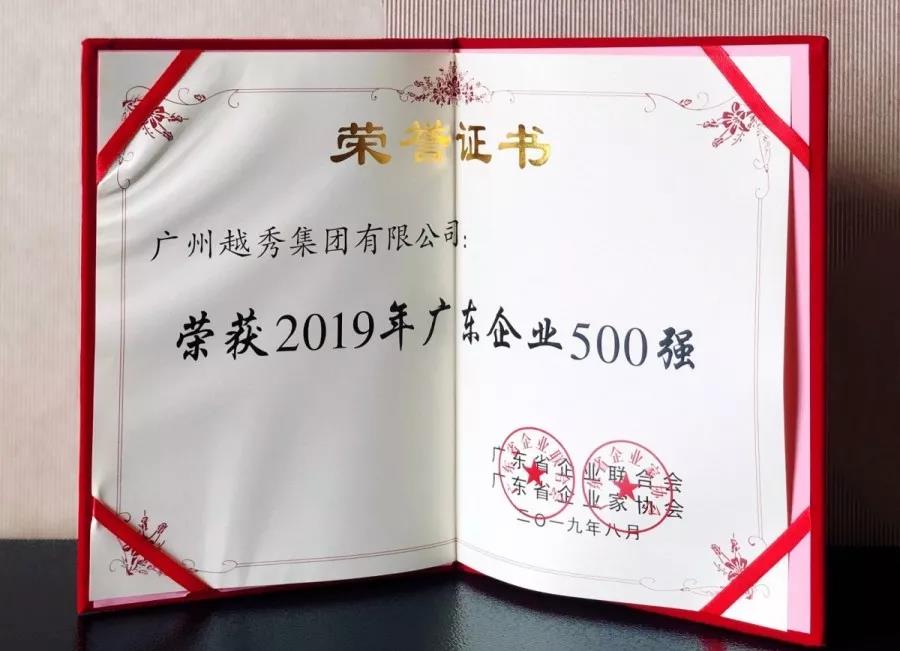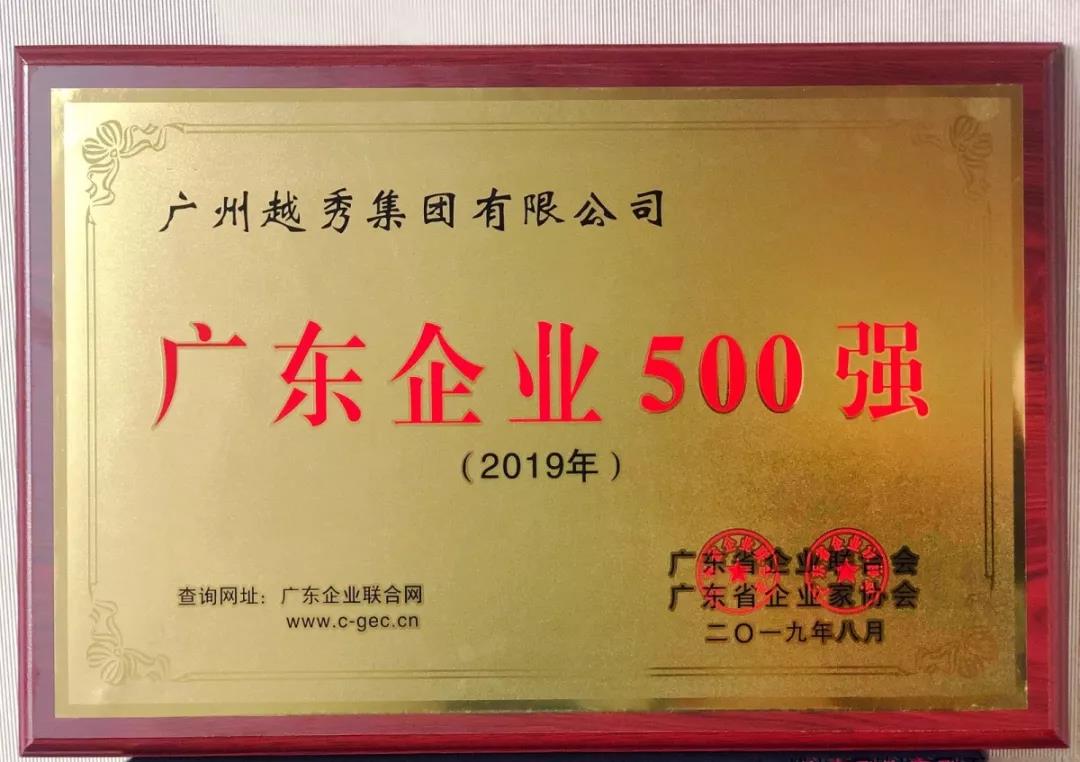 Top 500 Guangdong Enterprise Honorary Certificate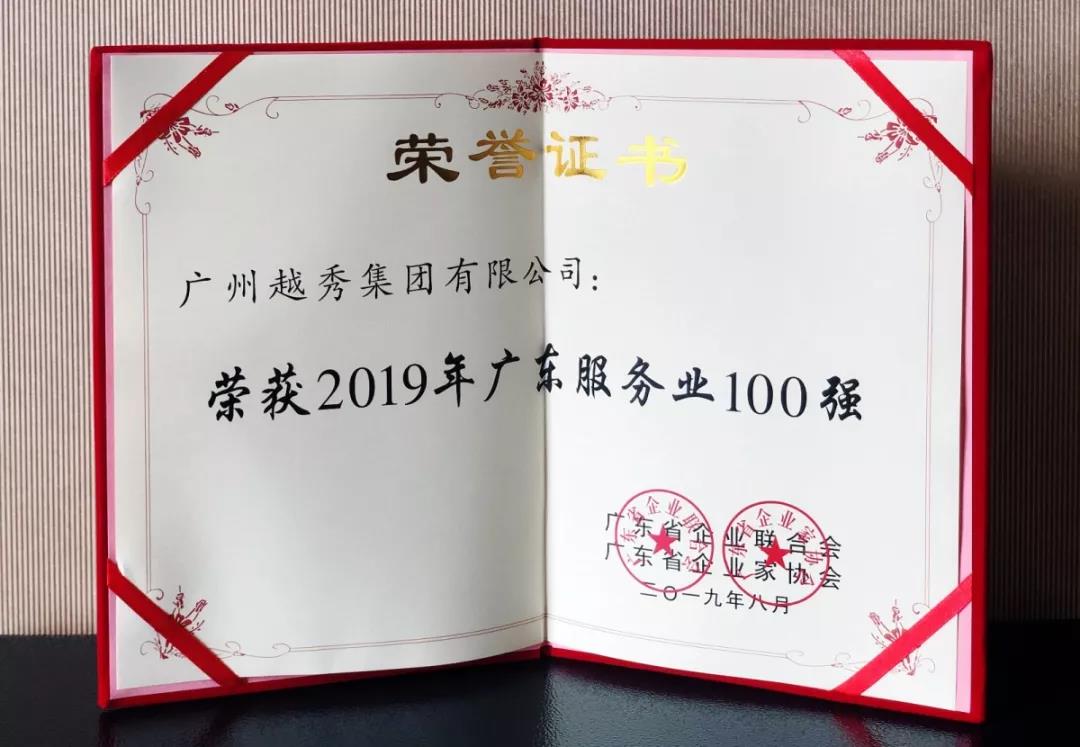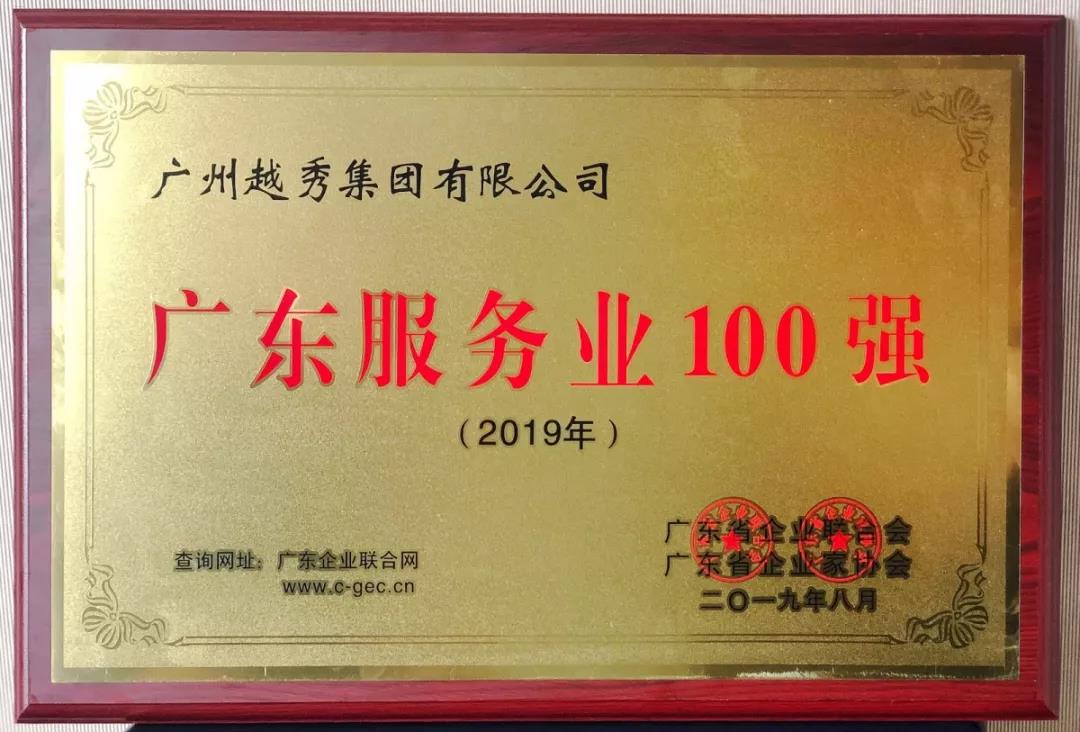 Top 100 Guangdong Service Enterprise Honorary Certificate
In 2018, Yuexiu Group achieved a revenue of RMB 48.3 billion, a total profit of RMB 12.9 billion, a total profit and tax of over RMB 20 billion, a major operating index growth of more than 15%, and a total profit of more than RMB 10 billion for three consecutive years. In the first half of this year, the Group continued to maintain a good growth trend. The main operating indicators rose sharply against the trend, achieving a total operating income of RMB 33 billion, a year-on-year increase of 66%, and a total profit of RMB 9.7 billion, a year-on-year increase of 57%. These have laid solid foundations to the completion of the business target of the year and a new round of transformation and development. The reform and innovation have been further promoted, and the "mixed reform" at the group level is about to land. The pilots of professional managers and the long-term incentive mechanism of subordinates continue to deepen. The transformation and upgrading effect are obvious, the "rail crossing + property" model tends to be mature, and the old reform project of Panyun Lirendong Village has been successfully signed. Yuexiu Financial Holding's "two in, one out and one reorganization" has achieved initial results, and urban modern agriculture has been added to the group's main business. We will fully support the construction of Greater Bay Area, donate HK$100 million to support the construction of the Hong Kong University of Science and Technology Nansha Campus, vigorously promote the establishment of Government, Industry, Education and Research Alliance in the Greater Bay Area, and jointly organize the Group's 3rd Innovation Competition with the Hong Kong University of Science and Technology. Actively fulfilling social responsibilities, the Group and its four Hong Kong listed companies issued 2018 Social Responsibility Report. In 2018, we invested RMB 6.8 million to help the poor, guided three counterpart villages to implement 8 industrial projects, and won the provincial poverty alleviation Kapok Cup Gold Cup. Established Yuexiu Volunteer Service Team and recruited more than 1,100 volunteers from Guangdong, Hong Kong and Macao, and have organized love teaching activities for four consecutive years.