Good News | The Group was awarded "Outstanding Enterprise of Guangdong Province in 2018"
On the morning of May 29th, the 25th Guangdong Entrepreneur Activity Day and Enterprise Integrity Construction Conference was held at the Baiyun International Convention Center. Yuexiu Group was awarded "Outstanding Enterprise of Guangdong Province in 2018" for its good performance in grasping the great opportunities of Guangdong-Hong Kong-Macao Greater Bay Area construction and promoting the development of high-quality corporate innovation.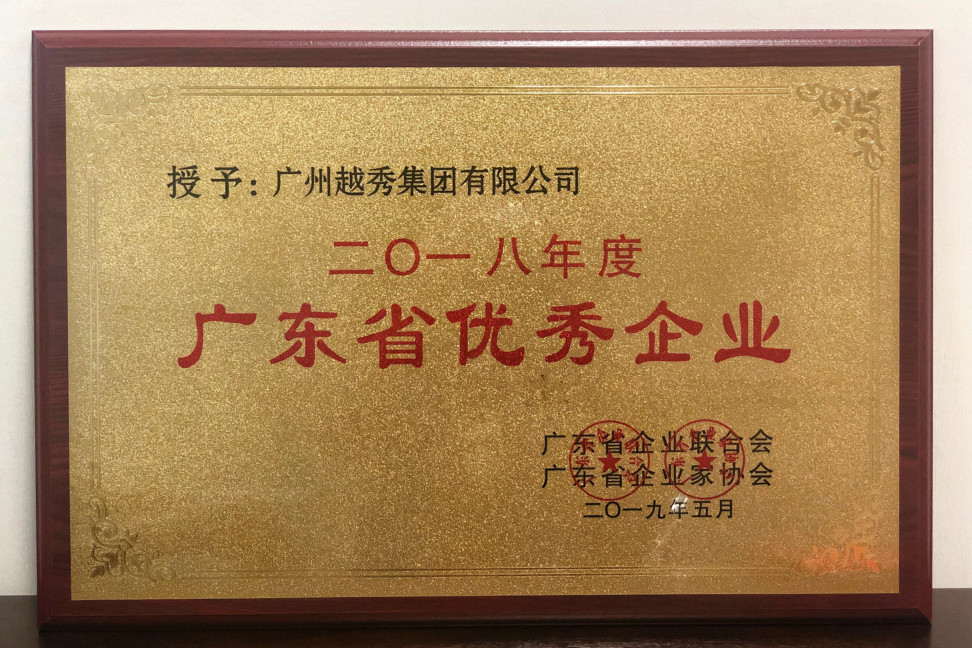 ▲onorary Certificate of " Excellent Enterprise in Guangdong Province"
The selection of outstanding enterprises in Guangdong province was organized by the Guangdong Provincial Enterprise Confederation and the Guangdong Entrepreneur Association. The selection was based on the business performance, employee training, social responsibilities fulfillment and public welfare undertakings. Outstanding companies are selected through third-party evaluation, expert group review, and review and publicity.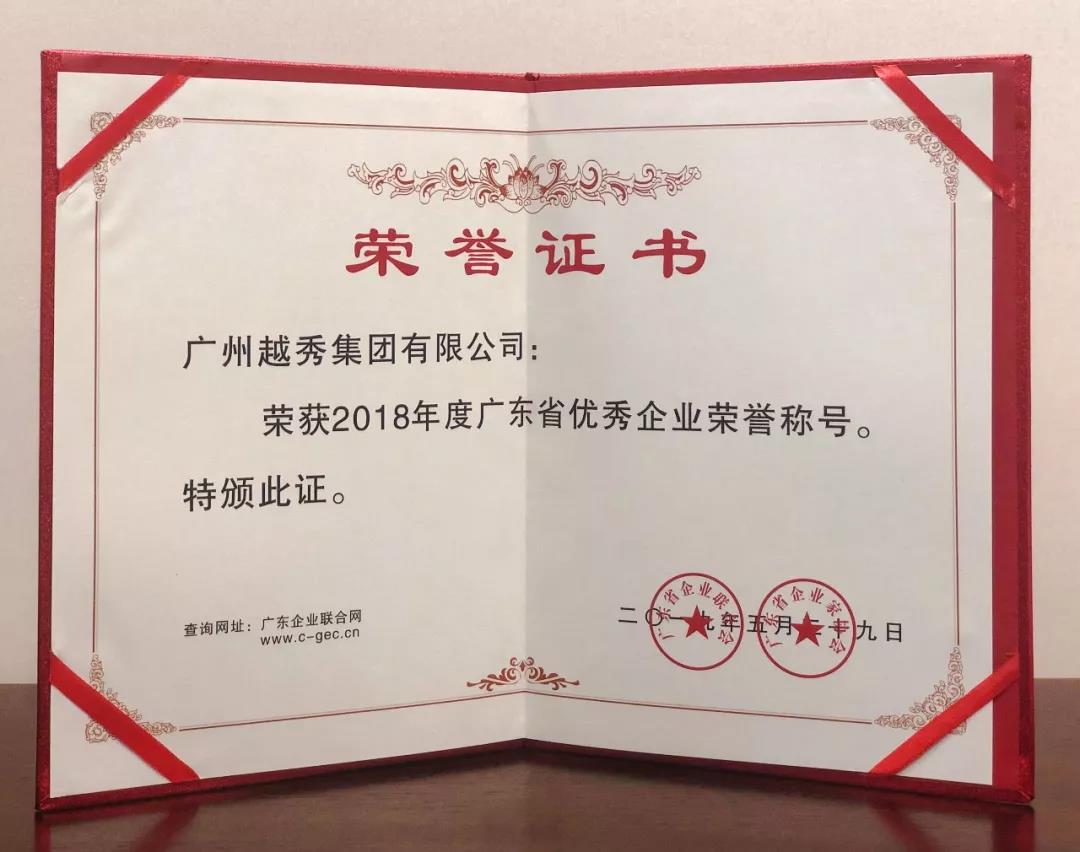 ▲Honorary Certificate of " Excellent Enterprise of Guangdong Province in 2018"
In 2018, Yuexiu Group adhered to the core values of "continuously surpassing and being better" and actively implemented the corporate mission of "returning shareholders, rewarding employees and returning to society". The business performance has reached new heights, all undertakings have been comprehensively promoted, the group development has reached a new level. The economic benefits and quality of development have been continuously improved. The main indicators have achieved growth of more than 15%. The total profit has exceeded 10 billion for three consecutive years and the total assets are nearly 600 billion yuan. The business structure has been continuously optimized, and the sales revenue of the real estate sector has exceeded 60 billion. The "real estate + subway" cooperation model has effectively landed, and the real estate financial operation has been deepened. Based on the long-term, the new business forms such as pension and urban renewal are actively undertaking. Yuexiu Financial Holdings focuses on the development of the core advantages of leasing, asset management and capital investment, and builds a financial investment group. The transportation sector successfully signed a contract to acquire the Guangsheng Asset Pack. The vitality of reform and innovation has been continually spurred. Yuexiu Group cooperated with ICBC to initiate the nation's first successfully approved single-double non-enterprise debt-to-priority stock, has been actively participating in the strategic restructuring of state-owned SOEs, and has been seeking new growth points and development opportunities. The reform of senior professional managers was included in the scope of the pilot, and the construction of the talent team was further deepened. Actively fulfilling corporate social responsibility, the group invested 6.799 million yuan for poverty alleviation throughout the year, guided 3 poverty village, implemented 8 industrial projects, and won the second award of the Provincial Poverty-Stricken Red Cotton Cup. For three consecutive years, Yuexiu group organized charity education campaigns, and released the Corporate Social Responsibility Report and Sustainability Report for seven consecutive years. Yuexiu group won "My Favorite Top Ten Brands in Guangdong" and "Guangzhou Daily Great Bay Corporate Social Responsibility Award".