Reform and Innovate for Better Effect, Pool Resources for Leap-forward Development
- Yuexiu Financial Holdings Hosts the 2015 Economic Work Conference
On February 3, afternoon, Yuexiu Financial Holdings hosted the 2015 Economic Work Conference in the IFC conference room on the first floor. Presided over by Deputy General Manager Su Liangyu, the conference was attended by about 245 people, who are Zhang Zhaoxing, Chairman of Yuexiu Group and Yuexiu Financial Holdings, Wu Shanghui, Deputy Party Secretary and Director, Tang Shouchun and Tan Sima, both Deputy General Managers, Wang Shuhui, Deputy General Manager of Yuexiu Group and General Manager of Yuexiu Financial Holdings, Lai Suifen, Secretary of the Disciple Inspection Commission, Feng Li, Chairman of the Labor Union, Li Feng, Assistant to the General Manager, Ou Junming, Financial Director, all the staff in the headquarters of Yuexiu Financial Holdings and managers of middle and higher classes of subsidiaries.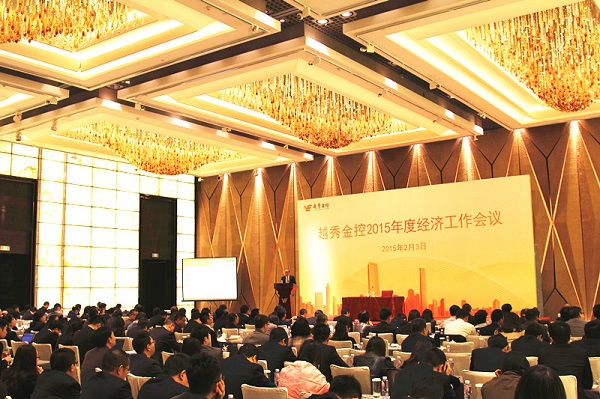 The conference began with the leaders of Chong Hing Bank, Guangzhou Securities, Yuexiu Financial Leasing, Yuexiu Industrial Fund, Guangzhou Guarantee and Yuexiu Microcredit reporting the works of their respective organizations in 2014 and the key points of their work plans for 2015.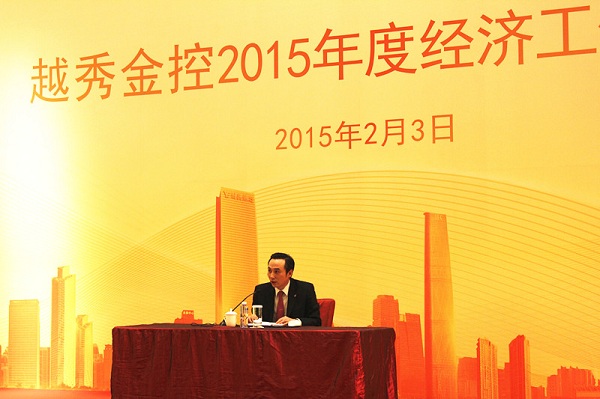 General Manager Wang Shuhui then delivered on behalf of Yuexiu Financial Holdings the General Manager's work report of Reform and Innovate for Better Effects, Pool Resources for Leap-forward Development. The report summarized the major achievements of Yuexiu Financial Holdings in 2014: the business targets for the year are achieved on all major operating indices, the objective set in the 12th Five-Year Plan is realized one year ahead of schedule, and the corporate business scale and general effect have attained a higher level; remarkable achievements are made in merger and acquisition, national business deployment and transformation in resources allocation, and a banking and securities centered international financial holding structure is officially put into place; the overall risk management has been improving and risks in critical fields are fundamentally removed and subject to control; achievements are made in commercial mode innovation and business transformation, and a differentiated competitiveness is basically established; progress is made in the creation of high efficiency organization and the organizational ability has been on the growth; professional management improves and value-creating headquarters are actually consolidated.
With regard to the works in 2015, General Manager Wang Shuhui put forward the working theme of "Reform and Innovate for Better Effect, Pool Resources for Leap-forward Development" and the working roadmap of "One Guarantee, Two Strengthens, Three Breakthroughs and Four Improves": for "One Guarantee", the operating plan for the year must be guaranteed to achieve balanced growth in corporate business scale, quality and effect; for "Two Strengthens", the capital operation and expansion through merger and acquisition shall be strengthened to create a "double-booster" development structure; for "Three Breakthroughs", breakthroughs shall be made in creating a comprehensive business mode with industry-finance coordination and finance-finance coordination, in exploring innovative financial services such as cross-border finance, Internet finance and mega assets management and in defining the business development directions of various business sectors and promoting business transformation, turning a new page for the company to adapt to the industrial development and to achieve general transformation and upgrading; for "Four Enhances", the organizational ability, IT construction ability, self-motivated risk management ability and professional management and control ability shall be enhanced, so as to focus on the construction of critical and fundamental abilities in conformity to service development and building new driving force for sustainable development.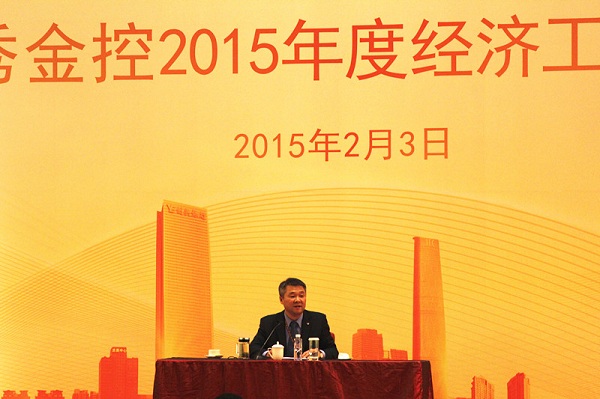 After that, Chairman Zhang Zhaoxing delivered an important speech. He fully approved Yuexiu Financial Holdings' achievements in 2014, analyzed the internal and external environment as well as the development stage in which Yuexiu Financial Holdings is situated, and pronounced his requirements on the key works in 2015.
In the first place, he fully approved and highly commended the outstanding achievements that Yuexiu Financial Holdings has made in merely three years since its incorporation. Chairman Zhang Zhaoxing elaborated on the company's fast growth and dramatic change in five aspects: The fast formation of a banking and securities centered international financial holding service layout, the creation of a "Cross-border Operation, National Expansion" service network, the establishment of a domestic and an overseas financial holding platforms, the construction of an enthusiastic and innovative management, and the highly efficient entry of Yuexiu Financial Holdings into the capital market. So far as the effect is concerned, the financial business has become the largest assets of Yuexiu Group and seconds only to the real estate business in terms of profitability. It is now one of Guangzhou's major State financial holding platforms and enjoys a fast growing influence in government, market and industry.
He then reiterated the guideline of "Seek careful progress, aim high and far". With regard to careful progress, Chairman Zhang Zhaoxing believes that the business units shall all stress on risk-controlled development, and the daily operation, business concept and practice included, must be careful; and about aiming high and far, he said the standard, target and project must be high or large and each business unit must aim to be the leader of the industry. He hoped that the enterprises at all levels must fully understand the new internal and external situation in the economic background of new normal, and further enhance the awareness of responsibility, mission and crisis to grasp opportunities, speed up development and create new patterns.
In the end, he put forward his requirements on works in 2015.
First, follow to the letter the working roadmap of "One Guarantee, Two Strengthens, Three Breakthroughs and Four Improves" and make all efforts to achieve the business targets for 2015;
Secondly, strengthen optimization of resources, reform and innovation, seek breakthroughs in domestic capital market, Nansha Free Trade Zone development, innovation in long-term stimulation mechanism and financial innovation, and conquer new strategic heights to open a new stage of development for the 13th Five-Year Plan;
Thirdly, each business sector shall follow the industrial development and stress as the focal point on defining the direction of business development and accelerating business transformation;
Fourthly, emphasize risk prevention, which is the foundation of enterprise development;
Fifthly, strengthen IT construction, invest more in informatization and introduce the Internet concept into financial services;
Sixthly, fully exert the efficiency of industry-finance coordination and finance-finance coordination to improve the comprehensive operating ability;
Seventhly, upgrade research ability, which is the requirements of both enterprise innovation and risk control and will build up human resources for the enterprise; and
Eighthly, stress on the construction of corporate culture and ethics.
Toward the end of the conference, Chairman Zhang Zhaoxing pointed out that we have in the past three years achieved fast growing and leap-forward development of which every member of Yuexiu Group and Yuexiu Financial Holdings is proud. He encouraged those present to trust in the future of Yuexiu Financial Holdings and actively adapt to the new normal of the economy, continue to enhance the internal power of the enterprise and grasp opportunities for "corner overtaking", and paint a more beautiful picture for Yuexiu Financial Holdings' future!