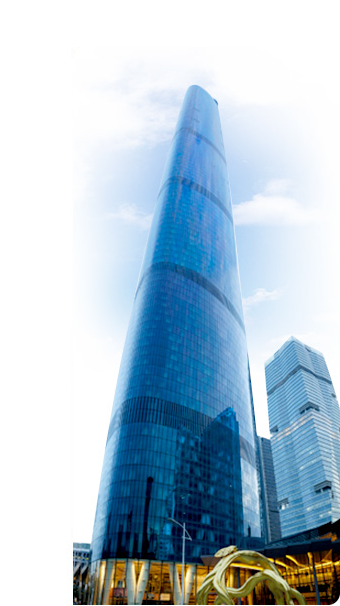 The development plan of the "twelfth five-year" is the first time that Yue Xiu Group has truly managed to realize its strategic planning in a scientific and systematic manner by utilizing "the intelligence of the entire Group". On the basis of conforming to national strategies, Yue Xiu Group is able to formulate an ambitious and spectacular 5-year strategic plan while recognizing the pulse of the age as it moves forward and keeps pace with the economic development.
Strategic Positioning
Yue Xiu Group is committed to building a modern international enterprise group of strong financing capabilities and potential for sustainable development by enabling the modern service industry to grow in strength and scale, transforming and enhancing traditional industries, and planning for strategic emerging industries.
Strategic Objectives
During the period of the "twelfth five-year" plan, Yue Xiu Group will base its businesses on major industries, projects and distributions to strengthen innovations of its business model and institutional mechanism, as well as focusing on building its core capabilities; meanwhile, the Group will strive to achieve the goal of "rebuilding Yuexiu" by driving its core businesses to achieve growth in scale, distribution optimization and performance enhancement through the establishment of core capabilities, thus taking the first step in becoming an outstanding international enterprise.
Strategic Measures
During the period of "twelfth five-year" plan, Yue Xiu Group will accelerate its process of transformation and upgrading, continue to strengthen the "two-wheel driven" model of industrial management and capital operations, reinforce innovations of its business model and institutional mechanism, concentrate its resources on the development of core businesses while focusing on building its core capabilities in an effort to promote a comprehensive, harmonious and sustainable development of the Group.
Encouraging Yuexiu Property to further implement the financial model of real estate. At the preliminary stage of securing land, we will strengthen the cooperation with state-owned funds and optimize the method for fund buy-backs to establish a long-term sustainable collaborative model; at the subsequent stage of operating commercial projects, we will strengthen the dual-platform interaction with real estate agencies; at other stages such as designing, developing, sales, customer services and property management, we will fully explore the feasibility of integrating with financial resources.
Encouraging Yuexiu Transport Infrastructure to carry on establishing the development model of "overseas financing + domestic investment + standardized management". In the transport infrastructure sector, we expect to achieve rapid growth in asset size and optimization of asset structure through the increased expansion of major quality expressway projects; at the same time, we also take a proactive approach in expanding our businesses to areas in other transport infrastructure and transportation service industries, such as ports and quays.
Encouraging various business platforms of Yuexiu Securities to establish business development models of unique features and competitiveness, in an effort to build an international financial holding group with core businesses in banking and securities. On the foundation of the preliminary-formed industrial patterns, with increased input in resources and reinforced mergers, acquisitions and restructuring, we will strive to build an international financial holding group with banking and securities as its core businesses, trust and leasing as its key supporting elements, private equity and micro-credit as its features, an international financial holding group with a perfect service system, a positive interaction between Guangzhou and Hong Kong, as well as comprehensive and harmonious development.
Strategic Themes
Adhering to the keynote of "stable improvement" in order to maintain faster growth in business performance while ensuring organic enhancement in asset and management quality;
Carrying on driving core businesses to grow in scale, adhering to the expansion model of "mergers, acquisitions and strategic cooperation" to optimize industrial and business distributions;
Carrying on promoting financing model innovations, further optimizing resource allocation to ensure fund security for the Group;
Reinforcing the innovation of commercial models, strengthening the combination of industry and finance to build a differentiated and competitive commercial model;
Reinforcing the reform of institutional mechanism to achieve greater breakthroughs in the reform of professional-manager system;
Enhancing risk control to prevent various risks the Group may face during the process of its leaping development.