On Jan. 5, 2015, Harvard China Trip—Green Building with Yuexiu Property Symposium was held in Yuexiu Financial Tower in Guangzhou. This symposium invited many distinguished guests to discuss the application and practice of green building. At the symposium, Huang Weigang, Deputy General Manager of our Group, delivered a speech. The Group focused on "Yuexiu Mode" of harmonious of "Humans—Buildings—Nature" in green property; and as a practical model, the Mode was discussed by the guests.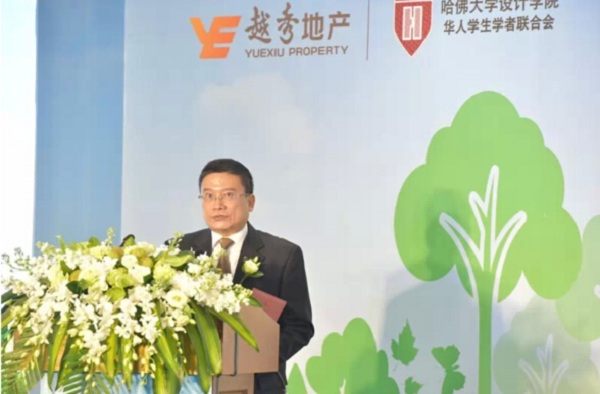 Huang Weigang, Deputy General Manager of our Group, was delivering a speech.
According to investigation data from authoritative sources, more than eighty percent people would purchase properties with green building certification, and more than sixty percent people would accept that the price of properties with green building certification is higher than the similar properties. Thus it can be seen that health, green and ecology are becoming the weathervane of house purchasing.
Since the promulgation and implementation of the "Green Building Assessing Standard" in our country in 2006, green buildings have become the order of the day. However, in recent decade, it has been growing wildly and green building has become the product awash with technology which is expensive and unpractical. Mr. Huang, Deputy General Manager, said in his statement that it might be the key to actual effects of green buildings and future development in China how to apply the green building technology to architectural design correctly and efficiently.
The costs of green building lifecycle indicates that the costs of construction and installation only account for 15%-20% of the total cost while running cost after construction 80%-85%. Mr. Huang said that only green mode of respecting nature, adaptation to local conditions and balancing construction, running and inhabitant experiences could we achieve controllable cost to protect the profits; and this had been the green conception of "Humans—Buildings—Nature" which Yuexiu Property kept for over twenty years.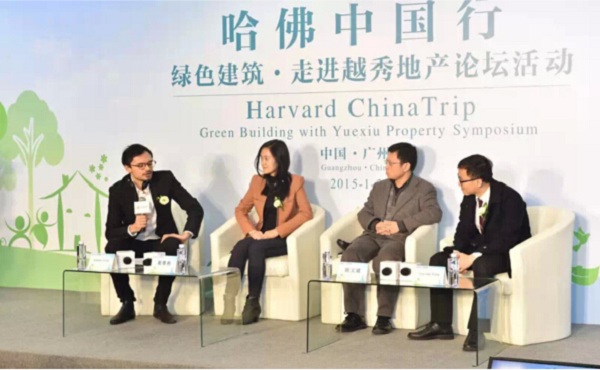 Four experts in discussion
The Green Building Symposium invited the top experts from Harvard University, University of Hong Kong, South China University of Technology, SRIBS and Transsolar Energietechnik GmbH in Germany.
Dr. Salmaan Craig from Harvard University participated in Masdar plan in Abu Dhabi and environmental energy design of a number of famous projects for Apple headquarters and so on. Ge Caoyan from Shanghai is the member of China Green Building Youth Committee, many of her projects were LEED-certified in China or USA.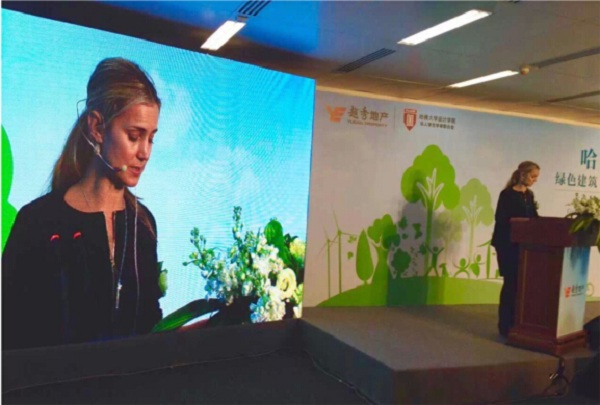 Ms. Elizabeth Whittaker, associate professor of Harvard University, was delivering a speech
The experts made keynote speeches, case analysis and discussions on development and innovation of green building technology and green building design in the Five Ridges, and interacted with the audience.
"Harvard China Trip—Green Building with Yuexiu Property Symposium" made the green image of Yuexiu Property and Yuexiu Financial Tower more popular. The invited professor from Harvard University excitedly said: "The Symposium fully showed the international vision of Yuexiu Property and we can see the low-carbon, environment-friendly and healthy social appearance of Yuexiu Property, and we think this China Trip is very meaningful."