China Archives: Yuexiu Group Popularizes Archives Management with Innovative Methods to Accelerate High-quality Development
Since this year, Guangzhou Yuexiu Holdings Ltd. (hereinafter referred to as "Yuexiu Group") has carried out a series of archives publicity and education activities with the theme of "archives beside you", calling upon every employee to attach importance to archives work starting from little things around them so as to jointly achieve high-quality development of the group.
Yuexiu Group is in compliance with innovative working ideas, taking "overall planning of the group and respective undertaking of every sector" as the guideline to implement the propaganda and education of archives work. Through "overall planning", each industry sector can not only present a unified theme, but also fully display their specialty. Through "respective undertaking", various attractive and creative activities can be carried out. At the same time, all sectors adhere to the principle of cooperation and sharing, thus the resources and achievements of archives propaganda and education can be shared timely. Each employee in the group can participate in different activities according to their needs and interests, so that the coverage and influence of such activities can be expanded and enhanced further.
In order to carry out distinctive propaganda and education of archives work, Yuexiu Group has launched a series of lively and interesting activities which are closely sticking to the theme. These activities have attracted the active participation of many employees and received unanimous praise. Among them, a mini program "come and test what kind of archives management style you are" developed by the group headquarters in a way that is fun and educational has attracted more than 2,500 employees to get involved. The real state sector has organized archives experience activities which attracted about 500 employees to undergo the whole process of archives management personally. The transport sector has held two large-scale lectures on the theme of "Trend of Archives Work and Mission of Archives Workers in the Age of Big Data" and "Innovation and Development of Enterprise Archives Work", drawing nearly 300 people to learn and share ideas, which has broadened the archivists' horizons and thoughts. The financial and development sectors were responsible for customizing publicity materials, elaborately producing and distributing publicity items such as file bags, bookmarks, etc. The paper sector has actively organized an essay competition with the theme of "New China's Memory", in which 10 outstanding works have been selected to represent the group to participate in the theme essay writing activity organized by National Archives Administration of China.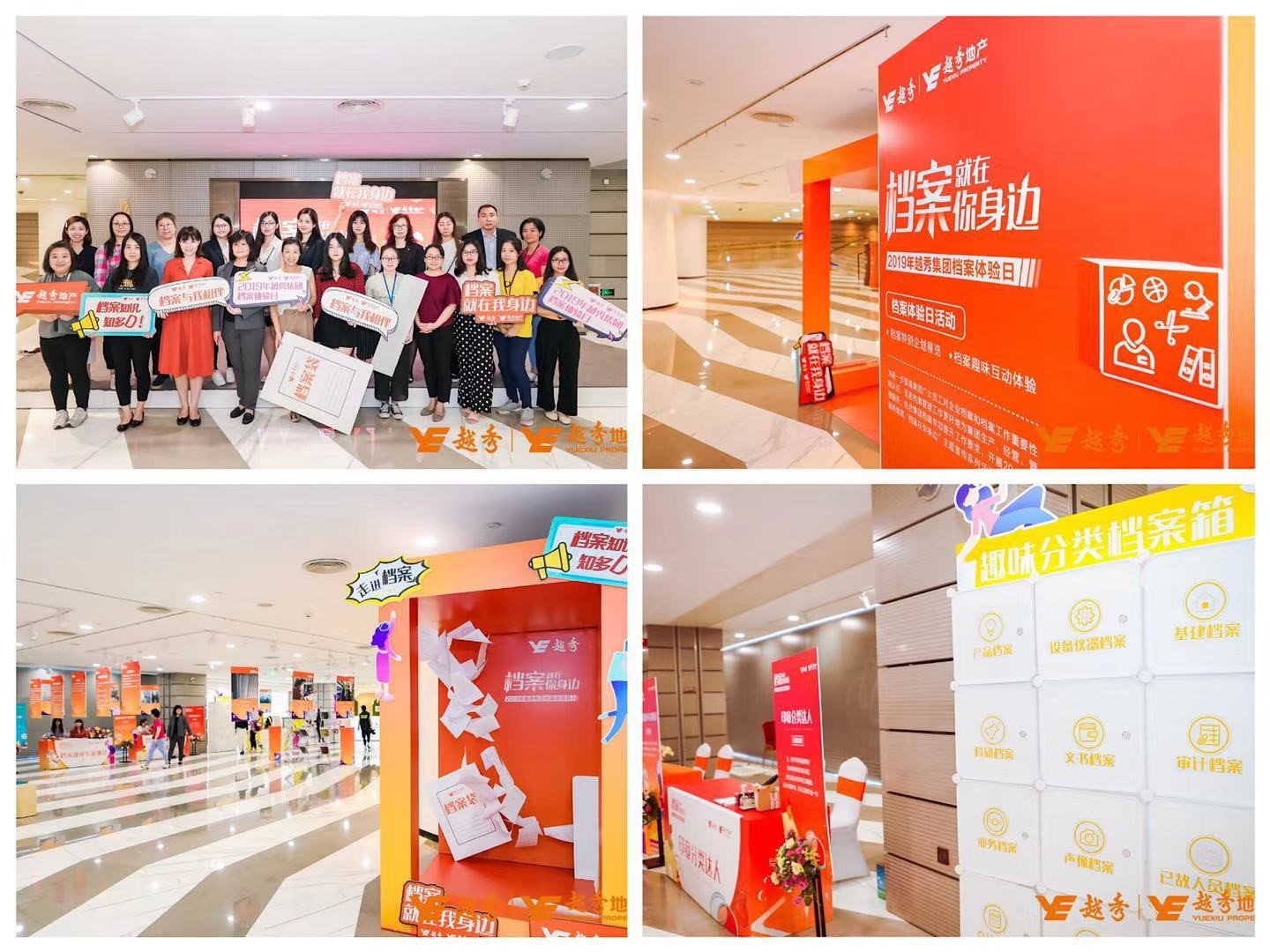 Yuexiu Property holding archive activities
After the propaganda and education activities, the Knowledge Management Center, an archives management organization of the group, has exchanged and summarized experience with each industrial sector in the form of review, analyzing the highlights and shortcomings of these activities and sorting the experience into written results which can be used as guidance materials and reference for archives propaganda and education in the future, and as a way to realize positive cycle and optimization of such work.
Yuexiu Group attaches great importance to archives administration. In 2018, it put forward a special project called "improving archives management in two years". Focusing on administrating archives for the party, guarding historical data for the country, energizing the enterprise and serving the employees, Yuexiu Group incorporates archives administration into the front end of the business, and strives to make it an important "sally port" for the Group to improve its management capabilities and reduce operational risks. For this purpose, Yuexiu Group has been optimizing the rules and regulations, perfecting the mechanism and improving the level of informatization. Archives publicity and education work has been written into its system as daily routine work, and the month of June has been designated as "the month of archives publicity and education" because International Archives Day is celebrated in June every year. This year, Yuexiu Group has carried out innovative ways and means of archives publicity and education, and actively held a series of related activities. In this way, both the leaders and the employees of the group have widely recognized that archives are intangible assets and important information resource for enterprise development. At the same time, the professional level of the archives talent team has been improved and the cohesiveness among employees has been consolidated, which played a good role in promoting the project "improving archives management in two years".
Yuexiu Group was established in Hong Kong in 1985. After more than 30 years of reform and development, the Group has transformed from a window enterprise into a leading SOE in Guangzhou with total assets exceeding RMB 600 billion. Yuexiu Group has formed a "4+X" modern industrial system with financial, real estate, transportation infrastructure and urban agriculture as its core industries.
Originally Published in China Archives, September 23, 2019, 2nd Page.