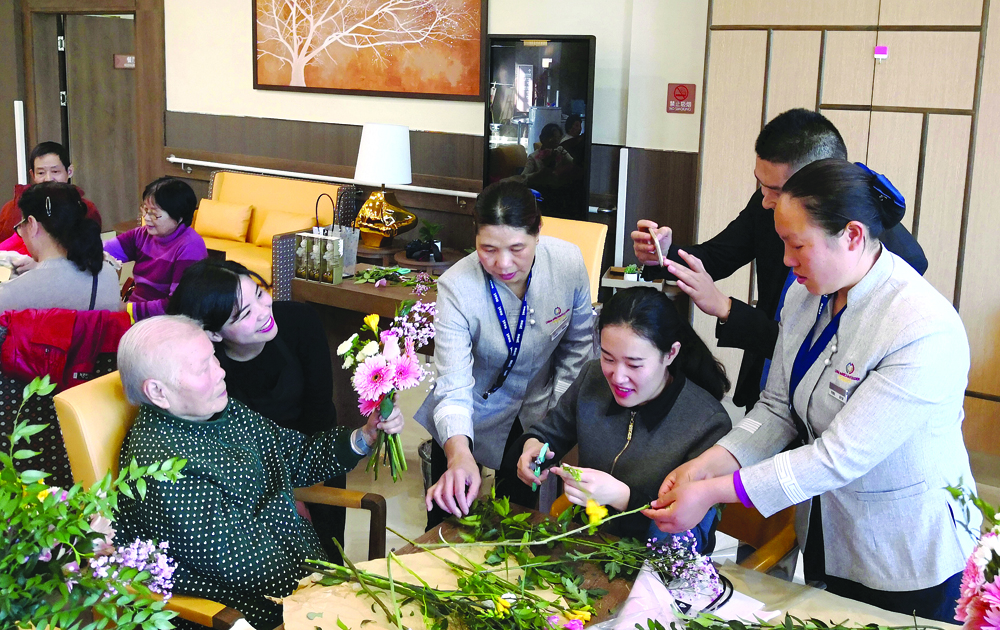 Elderly people attend a flower arranging class that was organized by a China-France joint venture senior care center. [Photo provided to China Daily]
Cooperation between China and France in the senior care sector is bearing fruit in major cities, including Guangzhou, capital of Guangdong province, and Nanjing, capital of Jiangsu province.
Thirty-seven elderly people, with an average age of 82, are residing at one high-end medical nursing home in Guangzhou. The facility started operations in February last year as a joint venture between China Merchants Shekou Industrial Zone Holdings Co and French nursing home operator Colisee Group in Guangzhou.
"French experts in Montessori, psychometricians (experts in understanding psychological tests) and doctors in geriatric care come to China every month for non-medical therapy training, healthcare training and operational support," said Olivier Dessajan, general manager of the joint venture.
With guidance from these French experts, the nursing home also provides care for those diagnosed with Alzheimer's disease and those needing various levels of care, he said.
Adef Residences, a French group specializing in the design and management of nursing homes, signed a cooperation framework agreement with Guangzhou-based Yuexiu Property Co on services for the elderly in May last year.
"For our next step, we hope to finalize the partnership between Adef Residences and Yuexiu by signing a joint-venture contract for the operation of a medical-social establishment for elderly people in Haizhu district," said Hu Shiyuan, international project director of Adef Residences.
With a floor area of 16,342 square meters, the nursing home will have 356 beds, according to Yuexiu Property.
France's Institut Superieur de Reeducation Psychomotrice, which is engaged in psychomotor therapy, won a public tender for the training of medical staff of public nursing homes in Guangzhou's Haizhu district last year and launched training in February.
The French consulate general in Guangzhou and the civil affairs bureau of Guangzhou signed a memorandum of understanding in January, 2017, on elderly care cooperation, an outcome of the long-term blueprint for the development of Sino-French ties published in 2014.
"This cooperation aims at sharing French know-how and experience in the elderly care field with Guangzhou's medical institutions. Through this mutually beneficial cooperation, France will use its decades-long expertise in the 'silver economy' to help Guangzhou develop its own high standard elderly care services," said the economic department of the French consulate general in Guangzhou in a statement.
In Nanjing, high-end French nursing home Orpea opened its first branch in China in 2016. Occupying an area of 17,000 square meters, it provides 111 rooms with 140 beds.
Xing Shanshan, director of Orpea's Nanjing branch, said that the nursing home is an example that "integrates European standards with Chinese culture".
"The home is an all-round medical and nursing institution for the elderly who can take care of themselves as well as those who are physically or mentally challenged," she said. "The home is established according to super-high standards and is equipped with living and entertainment facilities."
Xing said the nursing home provides advanced digital health facilities, professional medical and nursing teams and various entertainment facilities, including spas, film studios and karaoke.
"Well-decorated rooms with lake views or suites are provided. Chefs from 5-star hotels cater to the elderly, under doctors' suggestions."
Xing said that Orpea will continue to open more nursing homes in China.