Nansha Sub-branch of CHB Opened as the First Hong Kong-funded Bank Officially Entering the Region
The Guangdong Pilot Free Trade Zone Nansha Sub-branch of Chong Hing Bank Limited officially opened for business in Guangzhou's Nansha District on December 30, as the first nonlocal Hong Kong-funded Bank under the CEPA framework in Guangdong Pilot Free Trade Zone. The following leaders attended the opening ceremony: Zeng Jinze, Executive Deputy Director of Nansha District Management Committee, Deputy Secretary of the District Committee, and Executive Deputy District Mayor; Li Zigen, Deputy Director of Nansha District Management Committee; Wang Hongtao, Secretary-general of Nansha District Management Committee; Zhang Zhaoxing, Chairman of Yuexiu Group; Wang Shuhui, Deputy General Manager of Yuexiu Group; Leung Ko May Yee Margaret, Managing Director of Chong Hing Bank.
"With multiple platforms of banking, securities, financial lease, industry funds, financing assurance and petty loan home and abroad, the total assets of Yuexiu Group's financial sector reach nearly 170 billion yuan. The Group has developed an international industrial pattern of financial holding with the core business of banking, securities and lease as well as an industry layout of 'cross-border business and national expansion", said Mr. Wang Shuhui in his speech. Since Chong Hing Bank joined Yuexiu Group at the beginning of 2014, it has maintained rapid growth of business performance in the two consecutive years, and its major work schedules of added capital arrangements, cross-border business and branch establishment in Mainland China have been carried forward efficiently, achieving smooth transition and a solid start. Next, Chong Hing Bank will continue to accelerate the layout of the domestic business network, comprehensively enhance its ability of providing integrated financial services at cross-border level, and make great efforts to become an international banking group with its own core competitiveness, which is based in Guangzhou and Hong Kong and whose business covers the whole country.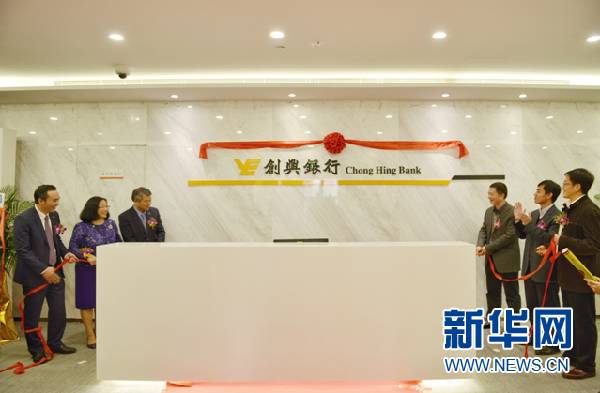 Ms Leung Ko May Yee said that since it became a member of Yuexiu Group, Chong Hing Bank has attached great importance to the business development in the Pearl River Delta, especially at Guangdong Pilot Free Trade Zone, in the context of RMB internationalization and CEPA framework. The bank will take its new sub-branch at Nansha Free Trade Zone as a starting point for new development, make best use of its own advantages in cross-border operations, provide customers with a full range of integrated financial services, share achievements with its customers and advance together. It will continue to roll out its business network in the Pearl River Delta region, and in particular, establish the branches in Guangzhou and embranchments in Shenzhen.
Chong Hing Bank, founded in 1948 and listed on the Hong Kong Stock Exchange in 1994 (stock symbol: 01111), is one of the constituent stocks of Hang Seng composite index series. Yuexiu Group successfully acquired 75 percent of Chong Hing Bank's shares and became its controlling shareholder on February 14, 2014. The new sub-branch of Chong Hing Bank Limited is situated at the Nansha City Investment Building in Nansha Free Trade Zone, Guangzhou. It is Chong Hing Bank's third nonlocal sub-branch in Guangdong Province, following those two in Guangzhou and Foshan.