Located on the 58th floor of Guangzhou International Financial Center, the Yuexiu Group's exhibition center officially opened on September 25, 2015. Designed in the minimalist and aesthetic style, the hall concentrated the 30-year history of Yuexiu Group's reform and development, revealing the wealth code of how the group, relying on the support from Hong Kong and Guangzhou, increased its total assets from the initial 5 million USD to the current 400 billion yuan.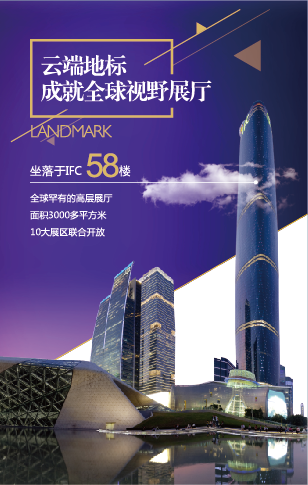 The exhibition center acts as a platform for the Group's image advertising, marketing, public relations, and exchanges and cooperation. The development, core advantages, highlights of the Group and its industry sectors were fully sorted out in the design. It presents the major investments, capital operation, management upgrading, social responsibility, brand and culture of the Group that has been carried out over the past 30 years, and fully displays the Group's achievements of reform and development by the means of huge picture scrolls and holographic projection technology.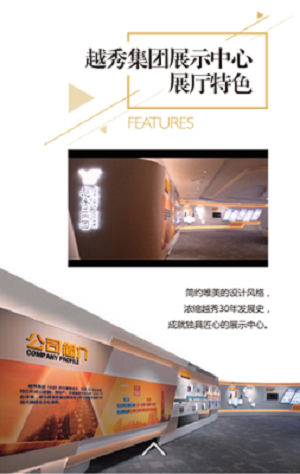 Lobby: smooth lines outline a lifelike roc, integrate the technological imagination with the Group's epic legend. The roc spreads the wings and soars high, showing the historical course of Yuexiu accumulating its 400 billion fortune. Grand and magnificent!
The Group's Hall: an "aircraft carrier" in the skyscraper makes visitors more intuitively sense the process of the Group's"3+X" industrial development, and also means sailing from the clouds to the future.
Yuexiu Property's Hall: the new Qingming Riverside Scene interprets the flowing light and color of contemporary architectures, and brings together the national landmarks towering into the sky. Here you can see the nationwide layouts of Yuexiu Property.
Holographic projection exhibits the development course of Yuexiu Property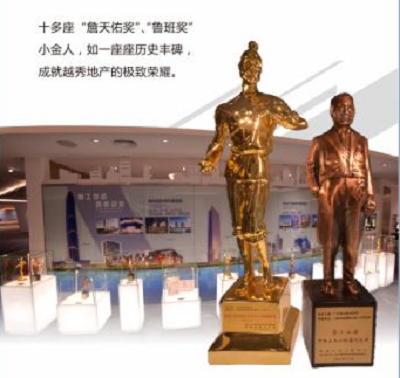 A dozen of "Zhan Tianyou Award", "Luban Award" statuettes show achievements of Yuexiu Property
Yuexiu REIT's Hall: as the first mainland property company listed on Hong Kong REITS, the Yuexiu REIT created a legend of commercial real estates.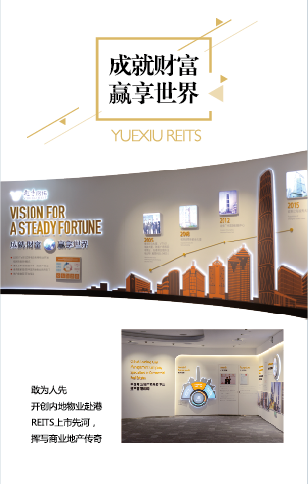 Yuexiu Financial Holding's Hall: it shows how Financial Holding rapidly rose in three years and built a comprehensive financial pattern of banking and securities as the core business.
Yuexiu Transport's Hall: it shows the excellent quality, national layout and vision of creating a first-class infrastructure operator of traffic and transportation.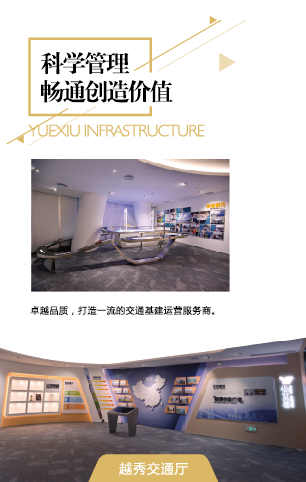 Hall for Paper, Building Materials and Development: it demonstrates the Group's traditional industries and extraordinary achievements in its course of transformation.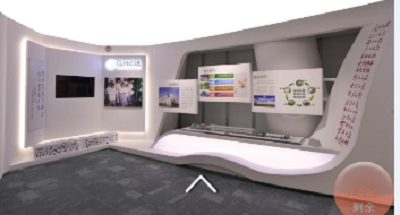 Hall of Cultural Corridor: it shows the cultural philosophy of Yuexiu's staff and workers keeping progressive, changing the ordinary into excellence, and constantly transcending themselves.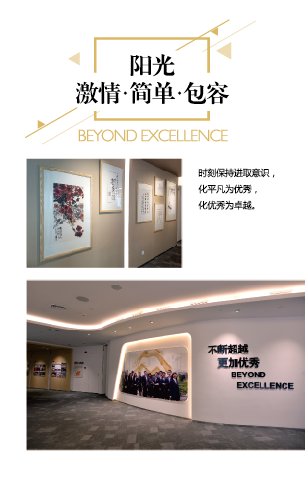 The exhibition center of Yuexiu Group not only demonstrates the remarkable achievements of its development in the last 30 years, but also shows its strength of leading the industry in the future. At the Group's 30th anniversary, we start from the clouds, and constantly surpass ourselves to create a superior international corporate group.