Guangzhou Securities completed Shareholding Reform and entered A New Stage of Strategic Development
Guangzhou Securities held inaugural meeting and board meeting and renamed as "Guangzhou Securities Co., Ltd." on September 1. Mr. Qiu was appointed as the president of Guangzhou Securities Co., Ltd. And the logo was changed to Yuexiu's "Wing-spreading roc" logo. It marked the beginning of a new stage of strategic development.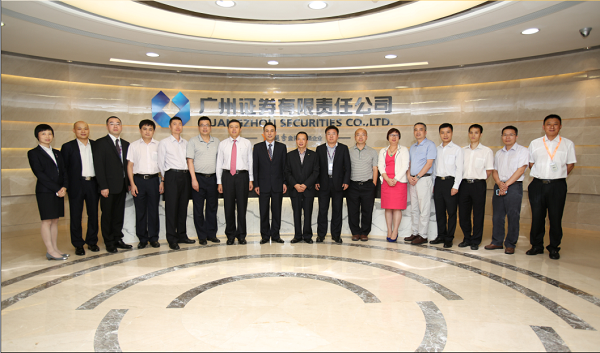 Guangzhou Securities, which was one of the earliest established securities companies in China, was founded in 1988. After 26 years development, especially rapid development in recent years, compared with 2009, main business indicators of Guangzhou Securities has achieved the goal of doubling, the number of business outlets has increased to 53 and are distributed in about 20 provinces throughout China. New business platforms for futures, securities investment consultation, venture investment, TeemRise Securities, etc. has been expanded and business development pattern of "focusing on both traditional and new business" has been basically formed. Stock creditor underwriting business and asset management business has both ranked into the top 20, and management system reform which focused on MD business level has been implemented. In general, Guangzhou Securities has developed to a national-wide middle-sized comprehensive securities company group with diverse business, high industrial rank and flexible mechanisms from a regional small-sized brokerage-based securities company with low industrial rank. Under this background, the restructuring of Guangzhou Securities to a normative joint-stock company under modern enterprise system will not only help to further improve the management structure and to establish the management mechanism of balanced and mutual promotive board of shareholders, board of directors and managers to make the company develops sustainedly and healthily, but also help to integrate social resource in a wider scope to be stronger and bigger and become leading securities company as soon as possible.
The alternation of executive team was complete during the restructuring of Guangzhou Securities, Qiu Sanfa was appointed as the first president of the company by board of directors. Mr. Qiu, born in April, 1964, has the doctor's degree of finance from Southwestern University of Finance and Economics. He has been a visiting scholar in research center of International Securities Dealers Association in London for two years. He had been holding leading positions in several securities companies with over 20 years experiences in securities. He joined Guangzhou Securities in January, 2010 and was appointed as vice president from September, 2011 to now, mainly in charge of fixed-income, bonds underwriting, asset management, etc. He has made a big contribution to business mode transformation to "combines stocks and bonds, integrates investments and financing" of Guangzhou Securities.
Over the next couple years, Guangzhou Securities will take the opportunity of the establishment of joint-stock company and the new development of securities industry in China, and strive to make the company into a leading securities company group according to the strategic orientation of "to grow stronger and bigger; to accelerate development, transformation and upgrade". Guangzhou Securities will unswervingly speed up business mode innovation; deepen integration of industry and finance, finance and finance, cross-border business. Guangzhou Securities will focus on investment bank, wealth management and capital intermediary and establish comprehensive finance development pattern of "coordinating investment and loan, stocks besides bonds, intermediary services" to create more value for shareholders, clients, society and staff.
In the inaugural meeting, Guangzhou Securities also announced that

would change to Yuexiu's
, and the old logo would be substituted in the coming months gradually. It will help Guangzhou Securities to promote business development and expand influence of the company brand with strong shareholders background of Yuexiu Group and Yuexiu Financial Holdings. Actually, share-holding companies such as Yuexiu Financial Holdings (controlling shareholder) have already considered Guangzhou Securities as one of the two core businesses for the future. The share-holding companies will enhance the support for Guangzhou Securities in capital investment and institutional mechanisms so as to help it to become leading securities company in China as soon as possible.