Yuexiu Financial Holding Dug in the Third Financial Fair, Made a "Good Start" with Contracts in the First Day
On June 20, the Third China (Guangzhou) International Financial Trade • Fair (hereinafter referred to as the "Financial Fair") opened in Pazhou International Exhibition Center of Guangzhou. Hu Chunhua, Politburo member and Guangdong Party Secretary, and his party attended the opening ceremony and visited Yuexiu Financial Holding booth, who were received by Zhang Zhaoxing, President of Yuexiu Holding Limited, Zhu Chunxiu, General Manager of Yuexiu Holding Limited and Wang Shuhui, General Manager of Yuexiu Holding Group. As a collaborative institution of the Fair, Yuexiu Financial Holding brought multiple subordinate business platforms with new image for collective debut since it changed its name at the beginning of the year. Chong Hing Bank participated in the financial fair in the Mainland for the first time, which became one of the focuses in the Fair.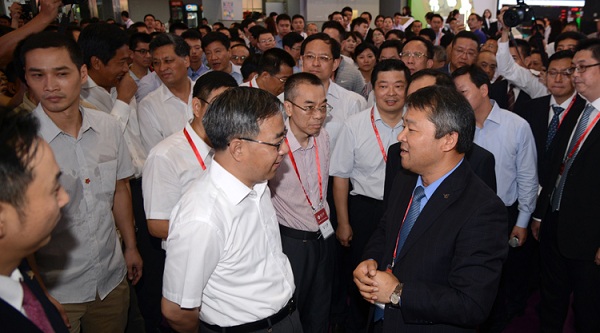 At the site of the Fair, major financial institutions introduced preferential policy, and spot transactions were unusually hot. Yuexiu Financial Holding successfully gained orders of RMB 4.5 billion on the first day, with a "good start." Yuexiu Financial Holding's Guangzhou Securities successfully signed Qinghai stock equity trading center in collaboration with its subsidiary-Tianyuan Securities, and signed strategic cooperation framework agreement with "Securities Times" on the opening day; Guangzhou Financing Guarantees Center signed strategic cooperation agreement with Zhonghe Guarantee Corporation, Guangdong Re-guarantee Company, Hanhua Guarantee Company respectively; Later, Yuexiu Financial Holding will organize various theme investment rostrums, and "benefiting-people" product introduction, Yuexiu Securities "Gift for new account", 8.5-9% discount of spot lending rates of Yuexiu Small Loan.
According to the person in charge of the fair, currently the financial fair has started from Hong Kong, Macao and Taiwan and gradually expands the market to Southeast Asia, Europe and America, to attract international financial institutions to the fair, through construction of gradient platform. In the future, Guangzhou Financial Fair will become an important platform to carry out financial cooperation between Guangdong and Hong Kong, Macao and Taiwan, Southeast Asia, Europe and America. As the bridgehead of maritime Silk Road in the new era, Guangzhou needs to play its role as financial bridge.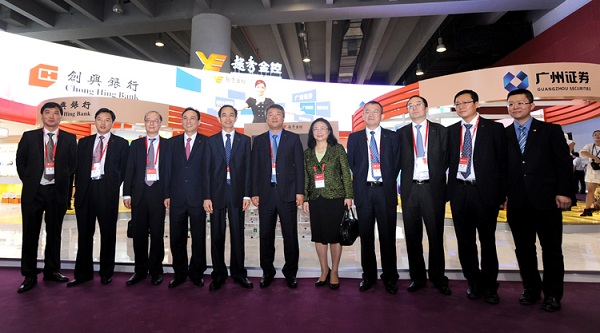 Currently, Yuexiu Financial Holding Group has obtained multiple financial licenses of bank, securities, financial leasing, futures, funds, small loans and guarantees, primarily forming the strategic pattern of international financial holding group with banks and securities as the core. Since the acquisition of Hong Kong Chong Hing Bank, Guangdong and Hong Kong linkage has been more convenient.Yuexiu Financial Holding Group will rely on the geographical superiority of Guangdong and Hong Kong to play an important role in promoting the construction of maritime financial Silk Road.