The Third Finance Trade Fair Closed; Yuexiu Financial Holding Had a Perfect Ending
The three-day Third China (Guangzhou) International Finance Trade Fair (hereinafter referred to as the "Finance Fair") ended successfully on June 22 in Guangzhou. Exhibitors had flourishing performance at the site of the Fair, showing the industry and finance docking signing, Internet finance and individual wealth management to all sectors of society with rich contents and forms. As the winner of "Outstanding Contributions" award in the current "Jin Rong Award" ceremony, Yuexiu Financial Holding Group successfully obtained several industry and finance docking projects in the three days of exhibition, and became the dazzling exhibitor at the site.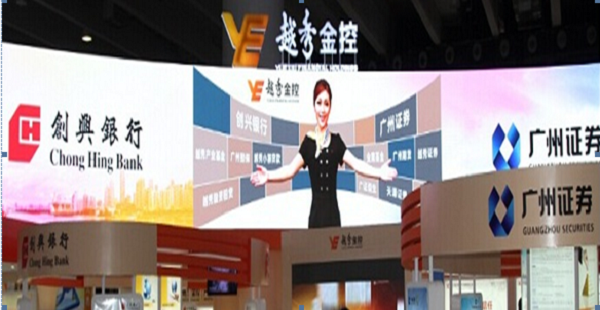 Breakthroughs in industry and finance docking, " Finance Benefiting People" to the end
At the grand site of the finance fair, the investment banking hall set up by the Fair has become one of the highlights of this Fair, such as the series of promotion activities for individual finance day of "Guangdong Finance & Guangdong Money", and deepened the combination between finance, real industry and people's life, highlighting the feature of financial services for real economy and promoting consumer services. As a collaborative institution of this Fair, Yuexiu Financial Holding took several subordinate business platforms for collective debut, successfully signing a number of major financing and strategic cooperation projects in industry and investment cooperation, financing guarantees, investment and loan linkage, bank credit and other aspects.
During the Fair, Yuexiu Financial Holding's Guangzhou Securities successfully signed Qinghai stock equity trading center in collaboration with its subsidiary-Tianyuan Securities, and signed strategic cooperation framework agreement with "Securities Times"; Guangzhou Financing Guarantees Center signed strategic cooperation agreement with Zhonghe Guarantee Corporation, Guangdong Re-guarantee Company, Hanhua Guarantee Company respectively; Yuexiu Small Loans signedstrategic cooperation agreement with Guangzhou Yuexiu Branch of China Construction Bank, Guangzhou Dongfeng Branch of Shanghai Pudong Development Bank, Guangzhou Yicheng Real Estate Consulting Ltd. and Guangzhou Huihan Consultant Ltd. respectively. As a new member of Yuexiu Financial Holding, the first exhibition of Chong Hing Bank this year was highly concerned by the industry and the general public, with consults from many institutions to seek opportunities for cooperation.
Yuexiu Financial Holding also launched a series of attractive product introduction, promotional offers, expert lectures on finance and other special activities. Among them, the investment adviser financial products and brand new "Combination of savings and loan", "Guangtong Card" and "Guangdong Securities Three New Board Funds" demonstrated at the introduction of Guangzhou Securities finance lecture attracted wide attention on site; the "Investment & loan linkage", "JiaDuoBao" and other products demonstrated at the introduction of Guangzhou Guarantee were recognized by considerable financial investors; the theme investment forum in energy industry organized by Guangzheng Hang Seng transferred rational investment concept to the public on site; the lecture of "Finding three new board stock equity investment opportunities" initiated by Guangzhou Securities Chuangtou was enthusiastically participated by investors, with enthusiastic interaction on site. In addition, the "Gift for New Account" of Yuexiu Securities and 8.5-9% discount of lending rates of Yuexiu Small Loan on site and other activities brought bursts of surprises to the site of the Fair.
Insiders said the reason for Yuexiu Financial Holding Group to reach many industry and finance cooperation projects and strategic cooperation agreements lies in its excellent operating performance, constantly enhancing brand influence and good public praise since its establishment. With this important industry and finance docking and exchange platform of the Fiar, Yuexiu Financial Holding Group unveiled a new style of financial innovation and development today.
Eclectic with multiple business, overall layout for international financial holding platform
Since its establishment, Yuexiu Financial Holding has promoted industrial layout of full license financial holding through "mergers and acquisitions, new establishment and capital expansion" and multi-channels, primarily forming an international financial holding group with banks and securities as the core. Currently, Yuexiu Financial Holding has a registered capital of RMB 3.05 billion and total assets of over RMB 100 billion, which is one of the three core industries of Yuexiu Holding Limited, with multiple financial service platforms such as bank, securities, leasing, industry funds, financing guarantees, microfinance, etc. Its outlets are distributed in Hong Kong and Macao as well as 19 provinces and 31 cities across mainland China, with a comprehensive development pattern of cross-border operation, nationwide layout and financial holding.
In the future Yuexiu Financial Holding Group will accelerate the pace of mergers & acquisitions and business expansion, promote business model innovation and resource allocation optimization, to create an international financial holding group with banks and securities as the core, featured by leasing, trust, guarantees, small loans and industrial investment, with perfect service system, good effect interaction between Guangdong and Hong Kong and strong core competitiveness, which will play an important role in promoting Guangdong into a powerful financial province, construction of regional financial center and the new round of financial reform and innovation.