On February 1, afternoon, Yuexiu Real Estate Investment Trust hosted the 2015 Economic Work Conference in the IFC conference room on the 11th floor. Over 150 people including Chairman Zhang Zhaoxing, Deputy General Manager Liu Yongjie, other members of the management and department leaders of Yuexiu Group, General Manager Chen Zhihong and relevant leaders of Yuexiu Property, General Manager Lin Deliang and management members of Yuexiu Real Estate Investment Trust, all the staff of the Headquarters, deputy managers of middle and higher classes of Baima Yicheng attended the conference.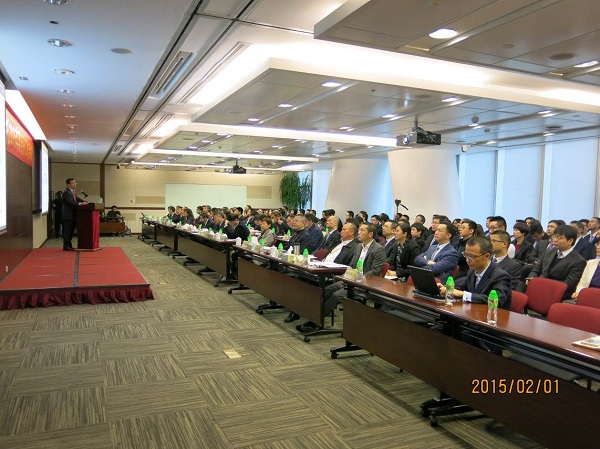 In the first place, General Manager Lin Deliang of Yuexiu Real Estate Investment Trust delivered on behalf of the company management the General Manager's report of Innovate and Transform for Breakthrough, Plot New Development Plans. He pointed out in his report that despite of the slow economy and heated market competition, the company had in 2014 adhered to the general working principle of "adjust structure, erect benchmark and enhance effect", coped vigorously with challenges and overcome difficulties and successfully accomplished the operating tasks for the year. All the "combats that we must win" are generally achieved, laying a firm foundation for the sustainable, fast and steady development of the business sector.
General Manager Lin Deliang pointed out the year of 2015 is the last year of the 12th Five-Year Plan as well as a year that the company seeks transformation, innovates for breakthrough and creates new plans for development. Yuexiu Real Estate Investment Trust has to follow the working roadmap of "Jump out, go abroad and set sail again" and adhere to the working theme of "Growth, upgrading and breakthrough", stress on operation adjustment, transformation and upgrading and business innovation, and hail the company's 10th anniversary with outstanding performance and wonderful achievements.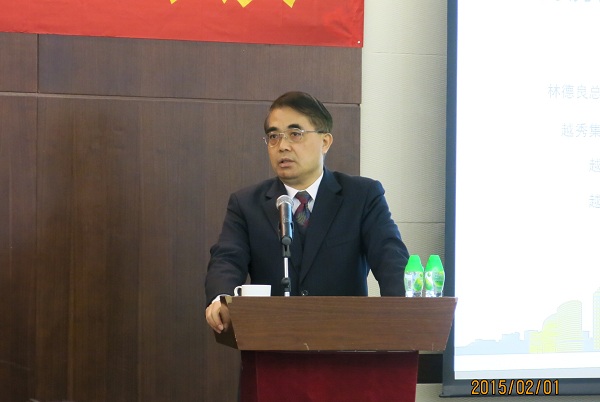 Liu Yongjie, Deputy General Manager of Yuexiu Group and Chairman of Yuexiu Real Estate Investment Trust, delivered the keynote speech and put forward five requirements on the company's works in 2015: 1. Respond actively to the heated market competition and the impact from E-commerce to ensure steady growth of all operating indices; 2. Overcome difficulties and contrive innovations to realize breakthroughs in overseas acquisition, Baima's output of management and Baima's E-commerce development; 3. Adjust the shopping space of the IFC Annexe to enhance its commercial value; 4. Adhere to the baselines of safe production and clean government, promote the construction of "all-staff, full-course and all-round" safety management system, fortify a fair, just and open decision-making mechanism and create an upright, unbiased and clean working environment. He pointed out in particular toward the end of his speech that Yuexiu Real Estate Investment Trust and Yuexiu Property have achieved a new aspect in their coordination and interaction due to their joint efforts. He expected more to this effect in the future.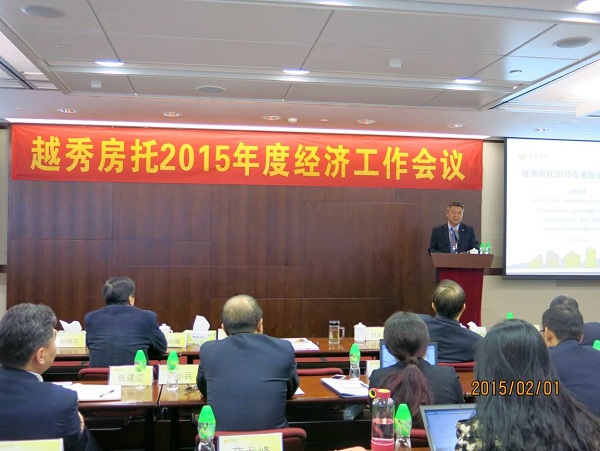 Chairman Zhang Zhaoxing of Yuexiu Group then made the important speech of Play a Leading Role in Yuexiu Group's Commercial Property Operation. He fully approved Yuexiu Real Estate Investment Trust's achievements in 2014, analyzed the current situation the company faces and the stage of development in which it is located, and put forward his general requirements on the company's works in 2015.
Chairman Zhang Zhaoxing pointed out that the company has a passionate and confidant management, which reserves high commendation. In an adverse external environment, the company has made new records in income and profits and achieved breakthroughs in such key indices as occupation rate, which is nothing easy. As the "Stabilizer" of the group and the property business, the company's role is further strengthened; the core ability in commercial property operation is further improved, and more major breakthroughs have been made in the renting and operation of IFC, Victory Plaza and other key commercial projects; and the internal coordination with Yuexiu Property is growing smooth, helping the latter to enhance its commercial operating ability.
Chairman Zhang Zhaoxing reiterated that the company is the core of the group's commercial property operation and boasts of the most powerful commercial property operating ability. He hoped the company would continue to play a leading role in the future commercial property operation, maintain growth and become a larger "stabilizer". With regard to the company's works in 2015, he put forward the following six requirements:
1. Be determined to promote transformation and explore new points of growth in management output, Baima's development of E-commerce and domestic REITs;
2. Maintain reasonable rate of debts and stable fund rating and make use of the Hong Kong financing platform to effect overseas acquisition and to enlarge the size of fund;
3. Further enlarge coordination with Yuexiu Property in terms of resources and project management;
4. Further deepen professional manager system to create a fair, just and open HR mechanism;
5. Strengthen reform and innovation in system and mechanism and explore a mixed ownership based stimulation mechanism to boost internal power and vigor in the company; and
6. Strengthen corporate culture construction and ethics management to create a fair, clean and efficient environment.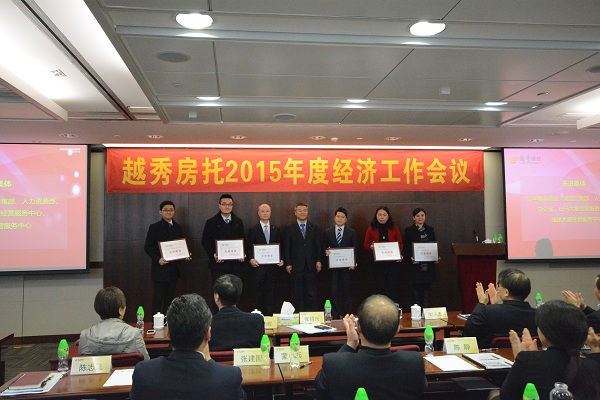 Before the conference was concluded, the company commended advanced collectives, excellent managers, outstanding contributors and advanced individuals in 2014.