Yuexiu Real Estate Investment Trust Fund Declared Its 2014 Interim Results Announcement
On August 13,Yuexiu Real Estate Investment Trust Fund (HK.00405, called "Yuexiu REIT" for short) held its meeting at JW Marriott Hotel of Hong Kong to announce its 2014 Interim Results Announcement. Mr. Liu Yongjie, Chairman of Yuexiu REIT, Mr. Lin Deliang, Administrative President, and some other leaders, attended the meeting.
The meeting attendants included reporters from 22 news agencies home and abroad and managers and analysts from 82 fund companies. Especially, the press conference attracted the attention from some major mass media agencies in China, such as Nanfang Daily, Guangzhou Daily, 21th Century Report, Hexun Web Site and so on.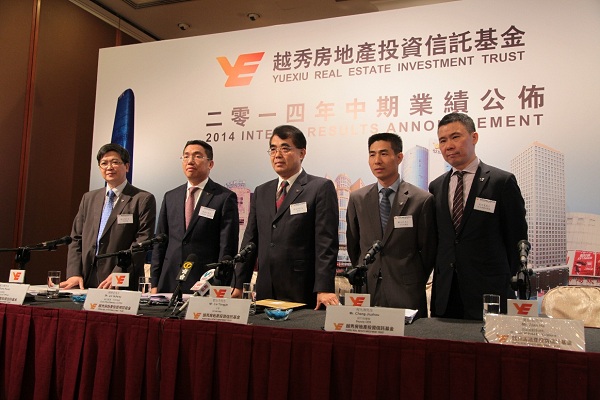 In the first half year of 2014, Yuexiu REIT showed a good turn in its operation, with two-digit increment in both income and apportionment. The fund's gross income is RMB 745 million Yuan,with a year-on-year rise of 16.6%. In the fund medium-term apportionment, each fund unit is about RMB 0.1163 Yuan,approximating 0.1464 Hong Kong dollar. Calculated in terms of the closing price 3.75 Hong Kong dollars for each fund unit on June 30, 2014, the fund unit apportionment rate is about 7.8%.
In the first half year of 2014, Guojin Center's operating performance grew very fast. By formulating a refined leasing strategy,and by building the 6S star diamond service system,we have upgraded the customer relationship management,making our leasing service more excellent continually. Among others, the occupancy rate of office buildings has climbed to 88.75%. In addition,we have brought in some fine-quality tenants such as British Consulate, which has optimized our tenant combination. The average occupancy rate of our hotel and apartments is 65.2% and 79.2% respectively,both our prices of on-sale houses and our income from on-sale houses are better than the hotels and apartments in the same districts of Guangzhou. The original five kinds of houses keep a high occupancy rate, continuing to promote the asset upgrading, and realizing value maintenance and increment of the houses. Among others, Baima Edifice has continued its reconstruction for increment,and the rent of the reconstruction area of the first floor has gone up by 18%; Victory is boosting its business adjustment steadily,helping the value upgrading.
In the first half year, our fund's debt structure got further optimized, and the proportion of domestic loan balance has dropped from 47% to 43%; Our general financing cost has been going down continually, as our average financing cost has dropped from the 4.77% of the beginning of year to 4.57%.
After the meeting, the major finance and economics news agencies in China reported our outstanding achievements at once via the Internet, TV and other media, and their titles are chiefly praising words, such as "apportionment total has increased by 16%", "the apportionment per unit is the highest in all the recent years", and so on. At the same time,many investment research bodies including Morgan Stanley, Citibank, Macquarie and so on, updated and issued their research reports at once,too. They gave some positive comments, such as "buying long", "winning over the market trend". The target price of Citibank has even risen to 5.06 Hong Kong dollars. The number of investment bank research bodies covered this time has also increased from 6 to 8. On the second day after the news release meeting, the managerial team carried out an investment soliciting campaign in Hong Kong immediately. The investors highly praised our achievements in the first half year, and expressed their expectation for the future of the fund.