New Naming: A New Milestone for the Group Company's Great Leap Forward
Recently,the third highest building of Zhujiang New Town developed by Yuexiu Real Estate, namely, the international first-grade office building "Yuexiu Wealth Center", was renamed into "Yuexiu Finance Edifice",and another core industrial field under Yuexiu, Yuexiu Finance Holding Group and its subordinate financing platform will enter the project, which marks that the project investment operation work has entered a new stage.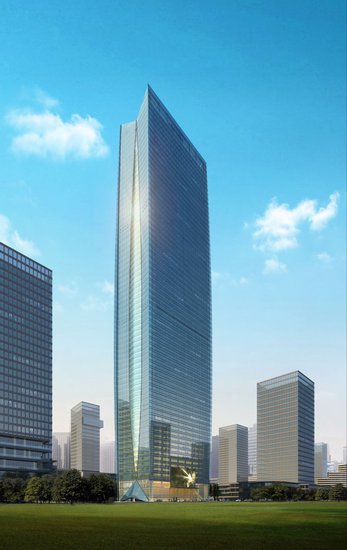 Yuexiu Financial Group as one of the three core industries of Yuexiu Group, came into existence in January 2012 only, yet, Yuexiu Group has placed a great hope on its development. Thus, it has increased its strategic support and resource infusing, in a short time of two years, it invested 16.8 billion Yuan in it successively, and by various means such as capital increase, new construction, annexation and re-organization, it has helped the financial group company grow very fast. Especially on February 14 this year, Yuexiu Group used 11.64 billion Hong Kong dollars to complete the purchase 75% of the shares of Hong Kong Chong Hing Bank, becoming the first domestic state-owned enterprise that has annexed a Hong Kong financial institution, and this annexation is the greatest case of annexation outside the mainland since the reform and opening of Guangzhou. At the same time, Yuexiu Financial Group was renamed as Yuexiu Finance Holding Group in April this year. Now, its scale of total assets has exceeded 100 billion Yuan. It has many financing platforms both home and abroad,such as banks, securities, leasing, plant funds, guaranty, petty loans and so on. It has formed a financial proprietary pattern with banks and securities as the core in all aspects. It has built a business development layout of "international operation, nationwide expansion", and a managerial structure of "stock holding by the group, and professional operation". It has become one of the most powerful financial holding corporations in Guangdong Province and Guangzhou City, and the industrial field with the largest asset scale within the system of Yuexiu Group.
The naming of "Yuexiu Finance Edifice" is a result of benign interaction between the two major businesses, Yuexiu Real Estate and Yuexiu Finance Holding, and is also an embodiment of the construction of "Financial Capital of the Headquarters" in Zhujiang New Town. In future,with the support from Yuexiu Finance Edifice as the core and headquarters, Yuexiu Group will take full advantage of its own great industrial foundation and financial resources,to intensify the interaction of the three major platforms of real estate, traffic and finance, give play to the synergistic effect of all the industries, and make it into a new engine for the great leap forward of Yuexiu Group.
New Landmark: New Starting Point for International Office Buildings
Yuexiu Finance Edifice is in the core area of the central axle of Zhujiang New Town of Guangzhou City, being a landmark-typed international class-A office building of Guangzhou, constructed by Yuexiu Real Estate by its 30-year commercial operation experience and with a huge investment of billions of Yuan. The project is positioned as "New Starting Point for International Office Buildings",chiefly facing commercial users in finance, technology and service industry. The gross building area is 21 hectares,its height is 309 meters,and now it has been completed, being the third high building in Zhujiang New Town. Since the start of investment soliciting campaign in October 2013, Yuexiu Finance Edifice has won a good reaction from the market, as many famous financial firms home and abroad have said they will enter it.
Yuexiu Real Estate adheres to the philosophy of building a "high-end, high-efficiency, and comfortable" office work environment, and will make Yuexiu Finance Edifice into a nonesuch in pure commercial office buildings in the world. The project has adopted the advanced management model of "unified ownership", to guarantee the comprehensive quality of the entering customers to the best effect, and build up a high-end office circle for enterprises. At the same time,Yuexiu Finance Edifice takes the lead in advocating the "philosophy of healthful working",whose core idea is to "let health melt into work, and let work return to nature". Such an idea has won wide recognition;The project has used three layers of ultra-white glass for the whole external wall, plus the two layers of air filtration unit, and photocatalysis air cleaning unit. While keeping out the sunlight and noise effectively, it has a 99% hindering rate to shut off PM2.5 and other harmful substances, so as to provide a working environment with fresh air and healthful atmosphere for the entering enterprises. It has become a "green land" on the axle line of Guangzhou City. Yuexiu Finance Edifice has passed the certification for the 3-star green building design marker in China, and has won the LEED golden pre-certification from the USA, being the first commercial building winning such a great honor in the corporations under Yuexiu Real Estate, which is a very rare case in the office buildings of Southern China and the whole country. It is a representative masterpiece in green architecture. After Guangzhou International Financial Center, Yuexiu Real Estate has again joined hands with a famous international building management service company, Jones Lang LaSalle, continuing its service philosophy taking the human as the fundamental, and enabling the customers to enjoy considerate and pleasant star-leveled service.