IFC Nation-wide Climbing Challenge was Concluded Successfully Olympic Athlete Won the Championship with 13 Minutes and 54 Seconds
On the morning of November 3, IFC Nation-wide Climbing Challenge was held in Zhujiang New Town. The Climbing Challenge attracted more than 1,000 contestants. The Group's Board Chairman Zhang Zhaoxing, General Manager Zhu Chunxiu, Vice General Manager Liu Yongjie, Vice General Manager Tang Shouchun and Vice General Manager Tan Sima as well as Operation Director of Yuexiu Property Chen Zhihongpresented atthe activities.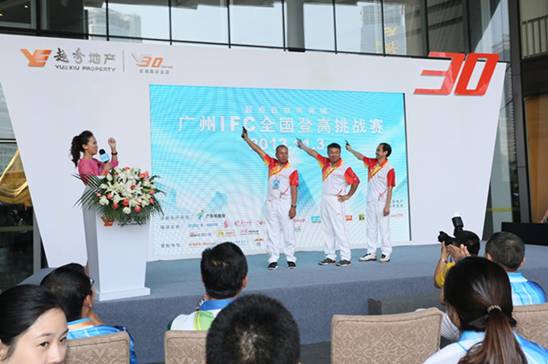 This stair climbing race was to climb 2,652 steps of the 103-storey, 432-meter high building. So far it is the world's highest "Building Climbing Challenge". It is also one of the three extensive mass fitness programs in Guangzhou, being equally famous as the Guangzhou Dragon Boat Race and the Guangzhou International Marathon. Finally,Li Zicheng from Qingdao, who was a marathon runner of the London 2012 Olympic Games, won the championship with an impressive performance of 13 minutes and 54 seconds. In other words,he climbed up one storey in every eight seconds.
"It is not too hard. This is the first time I participated in a stair climbing race. If I do it again, I will be faster", said Li Zicheng in a relaxed way after he won the championship. Because he was curious, he signed up for the race. Every day he had 15—20 kilometers marathon on the road, which helped him take the lead. "Seen from here, Guangzhou is so beautiful",said Li Zicheng, holding the trophy in hand ,busy with taking photos in the landing field and appreciating the scenery at summit. "Time permitting, I will come next year".
Gan Xue from Beijing won the stair-climbing race in the women's race. She was still a student, majoring in thermal physics in science, which has nothing to do with sports.
"Today I changed the running method",said Gan Xue after she got to the top. Last August, Gan Xue took part in the world's vertical marathon race in China Station, challenged the height of Beijing China World Trade Center with 82 storeys."Last time,I ran very fast at the beginning, making a stride in every three storeys. However, I was overrun by a foreign runner in the end. Today I chose to make a stride in every two storeys, so my physical strength was distributed more evenly." This new method helped Gan Xue win the race with a performance of 16 minutes and 47 seconds.
Gan Xue also said that, compared with the race in Beijing China World Trade Center, Guangzhou IFC Climbing Challenge was more difficult, because Guangzhou IFC has more stairs and is much higher, which require more physical strength.
Besides, Ma Jinguo, nicknamed the "wild man",and Zhou Qinglan, called "big head", respectively won the men's championship and women's championship in the proprietors' category. And Foshan enterprises won the team championship.
In addition to good performance the players, this race was organized in a caring and carful way, without any incident in the race, which thus ran safely and smoothly.
It is reported that Yuexiu Property,the organizer of the race, bought insurance for all the players of the race, and it conducted systematic physical examination for all the players before the race. When the players were climbing the stairs, more than 700 security guards, protection personnel, doctors, massage therapists, volunteers and other staff were serving in all corridors from one storey to 103 storeys to ensure that any incident can be responded within 5 seconds. Under this background,the race went off smoothly and was highly regarded.
The organizing committee said that IFC Nation-wide Climbing Challenge was one of the series of activities of the 30th anniversary of Yuexiu Property. As the most senior property developer in China, Yuexiu Property has been dedicated to the enterprise philosophy of "Progressing Further Ahead with Excellence for a Better Life" and contribute to urban development; in the industry, Yuexiu Property uses its unique REITs platform to create the high-end property mode of "Development + Operation + Securitization", bravely pioneering in innovation; in terms of green real estate, Yuexiu Property also takes the lead.
This session's Climbing Challenge attracted the interactions of millions of people from all over the country and caused the fitness craze by climbing height in Guangzhou. Together with crossing the Pearl River and Guangzhou Marathon in 2013, it is praised as Guangzhou's three major sporting events of "air, sea and land". Chairman Zhang Zhaoxing of the Group said that, from this year, the Company will hold a Climbing Challenge every year, and the Company will repay the society, promote public welfare, energy conservation and environmental protection as well as realize a better life for more people through this plate form.