Recently, 2012-13 Luban Award ceremony was held in the capital Beijing. The representatives of award-winning projects including Guangzhou International Finance Center (IFC), holding the heavy Luban Golden Awards in hand, enjoyed the highest honor in the industry.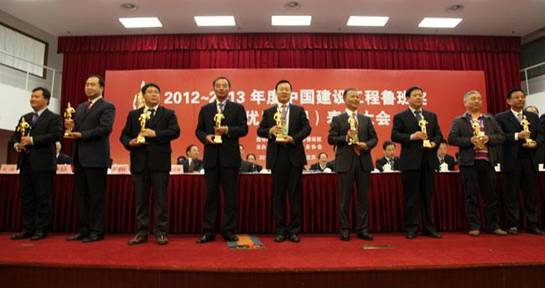 Since its creation in 1987,Luban Award has been the highest symbol of quality management and engineering level in the construction industry. It enjoys a widespread reputation and may be called a sign of enterprise credit. As a landmark in South China and one of top ten tallest buildings in the world, starting from the bidding, Guangzhou IFC included the winning of the Luban Award into the contract. Now it has achieved what it wished. Besides, three "aces" created by Guangzhou IFC are worth mentioning:
Firstly, Guangzhou IFC is the first skyscraper that Chinese people are responsible for its project management;
Secondly,with an elevation of 432 meters and a volume of 450,000 square meters, Guangzhou IFC is the highest award winning complex with the largest volume;
Thirdly, when Guangzhou IFC applied for the Luban Award,it included the office building, apartments, shopping mall and hotel and it did not intend to "neglect" the problems, so it is a solid , systematic and comprehensive achievement.
Guangzhou IFC was invested and constructed by Yuexiu Property. It is located in the core financial business district of Zhujiang New Town,at the new central axis of the city. It is currently the tallest building in Guangzhou and one of the world's top ten architectures. Its unique area height and functional combination make it the most attractive landmark with the highest commercial energy and give new impetus to the economic development of Guangzhou.
In addition to Luban Award,Guangzhou IFC also won more than 20 honors. In 2012, Guangzhou IFC successively won the Royal Institute of British Architects (RIBA)"International Award" and "Lubetkin Prize",the latter of which is known as the Oscar in the construction industry. Previously,only two Chinese projects, which are the "bird's nest" arena in Beijing and the UK Pavilion at the Shanghai World Expo, won the Lubetkin Prize.
Yuexiu Property realizes a better life with excellent engineering quality.