Delegation Led by Chairman Zhang Zhaoxing Paid a Visit to Ping An Group Chairman Ma Mingzhe
On the afternoon of August 28, the delegation led by Group Chairman Zhang Zhaoxing and General Manager Zhu Chunxiu arrived at the HQ of Shanghai Ping An Group for learning and exchanging. Ma Mingzhe, Chairman and CEO of Ping An Group, Zou Yiming, Chairman of Ping An Real Estate, and other related leaders attended the exchange meeting.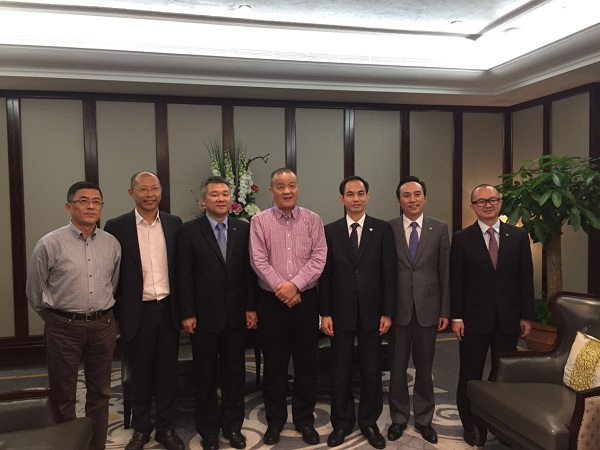 At the meeting, Chairman Zhang Zhaoxing introduced the basic information, the core industry development and the future development strategy of the Group to Chairman Ma Mingzhe. As introduced by Chairman Zhang, in recent years, the Group centralizes the resources to energetically develop the finance, real estate and transportation, with significant improvement in the scale and efficiency. At present, the Group has the total assets of more than RMB 370 billion, becoming the largest state-owned enterprise in Guangdong. According to Chairman Zhang, Ping An Group is a financial holding group with the most influence in China, and Yuexiu Group has been always learning the advanced experience of Ping An Group.
Chairman Ma Mingzhe thought highly of the reform and development achievements of Yuexiu Group, and said that thanks to the abundant resources and great market potential of Guangzhou, Ping An Group shall further strengthen cooperation with Yuexiu Group, a leading enterprise in Guangzhou. Chairman Ma brought forward valuable suggestions by combining his own experience in leading the reform and development of Ping An Group for more than two decades: firstly, the most importance of an enterprise was institution, mechanism and talent. Institutions decide the mechanism, while mechanism decides the talent. Secondly, the key for financial holding is to realize one client with multiple products. Thirdly, it is critical to design the top structure well and to arrange the capital sources and channels reasonably for obtaining capitals. Only with the capitals under control, can the control on the subsidiaries be realized.
Wang Shuhui, Deputy General Manager of the Group and General Manager of Yuexiu Financial Holding, Li Feng, Chief Capital Operation Officer of the Group, Ou Junming, Chief Financial Officer of the Group, Su Liangyu, Deputy General Manager of Financial Holding Group, Gao Yuhui, Deputy General Manager of Financial Holding Group, and other related leaders of the Group Office and the Group Development Department participated in the meeting.