On December 26 and 27, Chairman Zhang Zhaoxing of Yuexiu Holding Limited together with Liu Yongjie, Deputy General Manager, Wu Shanghui, Deputy Secretary, and relevant personnel of poverty alleviation of each sectors went to Mashan Village, Hele Village, and Suping Village at Baxiangshan Town, Fengshun County for inspecting the new round of "Double 'to' s" of poverty alleviation and development, and they also visited the counterpart poor families and residential cadres of the Group.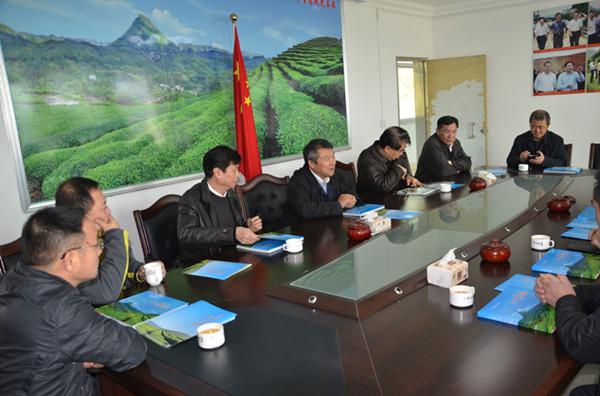 In the past six months, all of the poor villages had made assisting planning carefully in accordance with local conditions. These villages had accomplished the required goals according to the evaluation index, and had done well in featured industry. Agricultural cooperatives establishment, election of villagers' committee, skills training for farmers and purchase of New Rural Cooperative and new-pattern rural social old-age insurance had been conducted in each village, and an long-term effective industrial aiding mechanism had been explored energetically. RMB 1 million invested by Yuexiu Property and Building Materials Enterprise Group to Mashan Village had officially put into the construction project of new office building of the village committee. RMB 1.27 million invested by GZI Transport and Yuexiu Development to Hele Village had put into use, and the hydropower station invested by villagers had entered the phase of feasibility analysis. ,Assisted, had RMB 1 million invested by Yuexiu REIT and Yuexiu Financial Holdings to Suping Village had put into renovation project of road and drainage. Industrial aiding had been carried out based on tea economy through funding villagers to build tea plantations to shake off poverty.
Chairman Zhang Zhaoxing showed appreciation on the achievements of each villages since poverty alleviation work started. He also pointed out that long-term mechanism of poverty alleviation should be built and new aiding mode should be explored. We assisted poor families to join the cooperatives to promote their economic development and raise the incomes of village collectives and villagers. During the symposium with town governments, Chairman Zhang introduced that with the rapid development of Yuexiu Holding Limited, we keep committing to carrying social responsibilities and repaying the society. In strict accordance with the general requirements of "Double 'to' s" in the new round of poverty alleviation and development from provincial government, the Group would undertake its social responsibilities to earnestly supporting the poor in need for the poverty alleviation task this time. Yuexiu Holding Limited had the determination and confidence to find a right and effective long-term mechanism to help shake off poverty for the counterpart villages, get rich and enjoy the achievements of reform and development.