On March 30, 2014, "2013 China Foundation for Poverty Alleviation Donors Fair" was held at China National Convention Center in Beijing. The theme of the Conference was "Persistence brings changes". Yuexiu Holding Limited was awarded the honorary title of "2013 Poverty Alleviation Ambassador Award".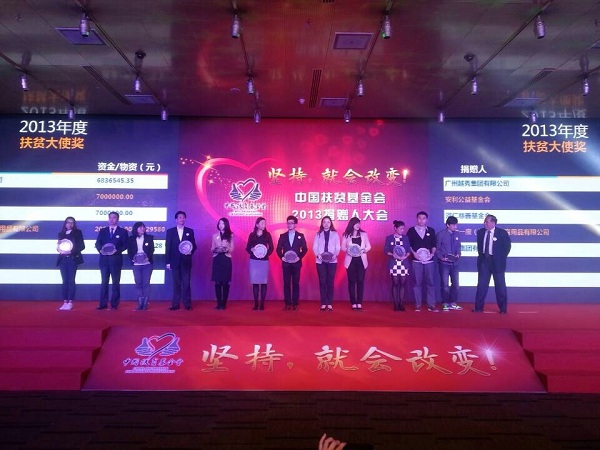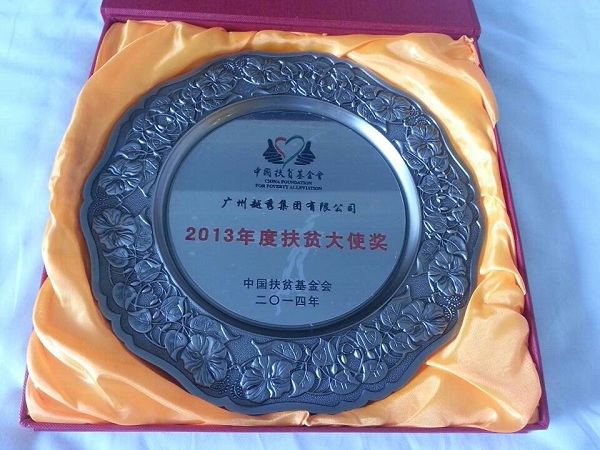 After Lushan earthquake in 2013, Yuexiu Property and Yuexiu Financial Leasing, the subsidiaries of Yuexiu Holding Limited, and all the staff donated RMB 6.83 million to the stricken area. Under the guidance of professional rescue team of China Foundation for Poverty Alleviation, reconstruction of Daping Central Primary School in Tianquan county, Ya'an was carried out. This project was the biggest single infrastructural reconstruction project at the earthquake stricken Lushan.
Cooperated with the Foundation in the disaster relief project, Yuexiu Holding Limited with real estate as one of its main businesses, not only provided financial support, but also heavily got itself involved in the implementation. Professional technicians were sent together with the Foundation to form an executive team and got deeply involved in key points such as site selection evaluation of the project, project procedures and schedule management, construction units selection, control of project design and pricing, etc. and offered professional advice. Simultaneously, Yuexiu Holding Limited mobilized supply chain partners to work for the project for good quality and efficiency. This innovative public welfare mode of "contributing donation and our expertise under our professional background to get deeply involved in the implementation of public welfare project" is the true reflection of "Integrity, Innovation, Responsibility", the brand characteristic of Yuexiu Holding Limited. And this innovative cooperative mode was highly recognized and praised by China Foundation for Poverty Alleviation as the partner.
In the future, Yuexiu Holding Limited will continue to practice its public welfare philosophy, dedicate to environment protection and promote social harmony to realize multi-wins and make contribution to shareholders, staffs and society and constantly progress for the "dreams" of individuals, enterprise and the country.
The new appearance of Daping Central Primary School.